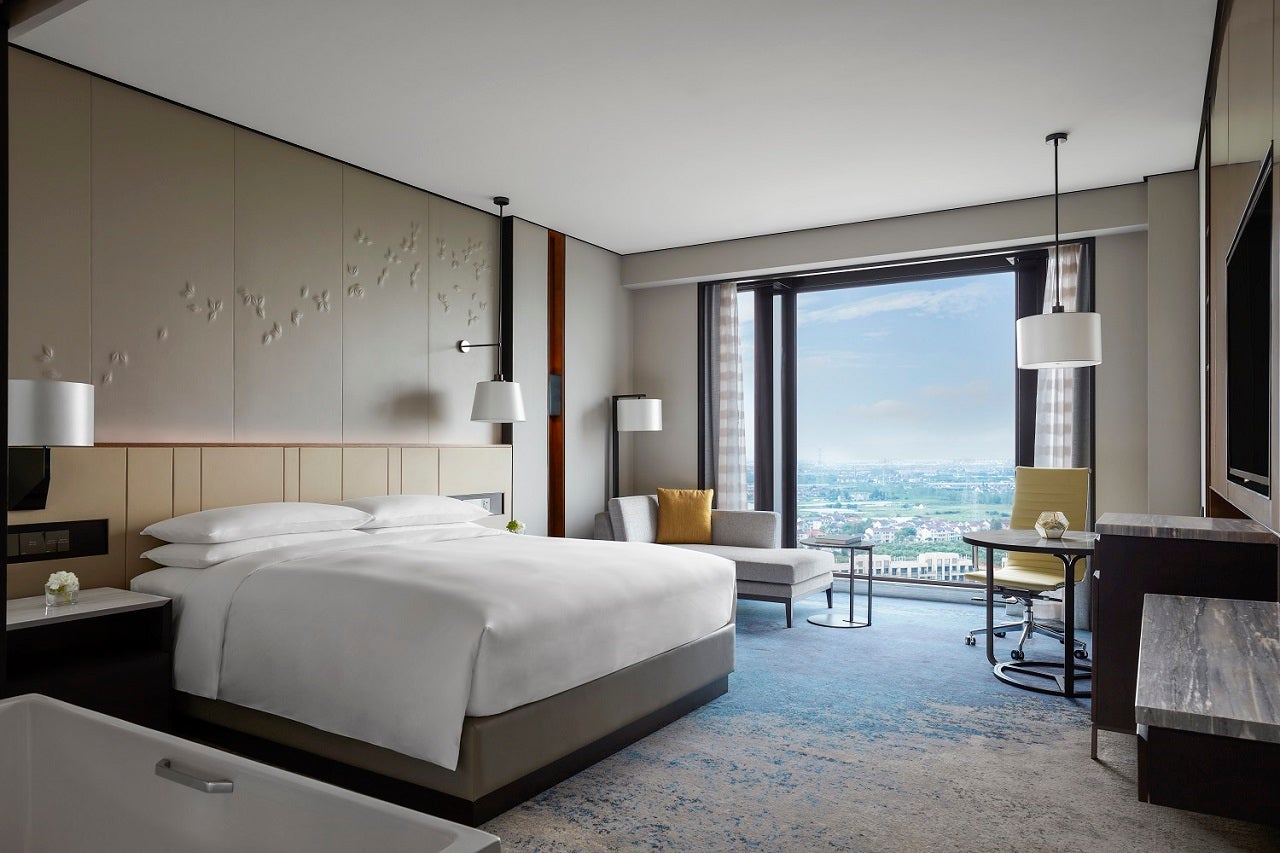 Marriott International has opened a new hotel in an emerging business and leisure destination in Southeast Shanghai, China.
It is the seventh Marriott Hotels property that the company opened in Shanghai. The hotel draws inspiration from the greenery of Pudong District, creating an urban retreat that connects guests with nature.
The hotel, dubbed Shanghai Marriott Hotel Pudong South, features 241 guestrooms with round office desks, sitting areas with a chaise longue and coffee table, as well as separate walk-in closets.
Other amenities include 33 premier rooms and six executive rooms as well as several family rooms; dining venues and a lobby lounge; two pillarless ballrooms and four flexible function rooms spanning a total of 2,650m².
The pillarless 800m² grand ballroom and 400m² junior ballroom offer spaces for large conferences and lavish gatherings, while the six different function rooms can host business events and private parties of all styles and scales, as well as glamorous weddings.
Shanghai Marriott Hotel Pudong South hotel also houses a host of fitness and wellness facilities including an indoor heated swimming pool, whirlpool, sauna room, and a fitness centre.
The hotel is situated close to a well-developed highway network and several business and tourist attractions, including Shanghai Disneyland, Haichang Ocean Park and Shanghai Wild Animal Park.
Marriott International president of Greater China Henry Lee said: "We are delighted to unveil Shanghai Marriott Hotel Pudong South, the seventh Marriott Hotels property in Shanghai. It marks an exciting moment as we proudly continue the robust growth in the region, further showcasing the company's strong commitment to China.
"The new Shanghai Marriott Hotel Pudong South is setting the stage for an inspiring guest experience with its modern space, sophisticated dining offers and host of personalized services."
Marriott Hotels has more than 550 hotels and resorts in over 60 countries and territories across the world.