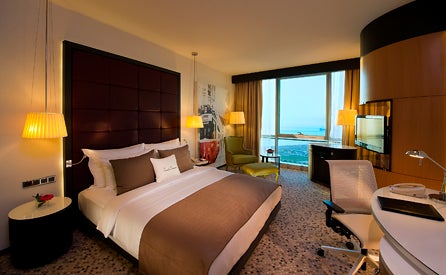 DoubleTree by Hilton has debuted in the Netherlands with the opening of DoubleTree by Hilton Amsterdam Centraal Station, formerly the Mint Hotel Amsterdam.
According to the group, the property is the first of eight Mint Hotels in the Netherlands and the UK to join Hilton's portfolio of hotels under the DoubleTree by Hilton and Hilton Garden Inn brand names.
The hotel features 553 guest rooms with modern architectural design and floor-to-ceiling windows.
The rooms have been designed to maximise natural lighting, and also incorporate soundproofed walls and complimentary wireless high-speed internet.
The first floor and rooftop meeting rooms can be used individually or as a combined space, and are able to accommodate events for 190 to 600 guests.
The hotel also offers various outdoor areas including waterfront terraces, a sky terrace, suite balconies, a courtyard and private roof terraces.
Hilton Worldwide Europe area president Simon Vincent said that the European growth of DoubleTree by Hilton includes more than 25 hotels opened since 2008 and 25 additional hotels under development in the region.
"With more than 220 hotels open and 110 hotel development projects currently underway in Europe, the potential for travelling consumers and hotel developers alike to enjoy and explore the Hilton Worldwide portfolio has never been greater. We are delighted to welcome the first of these eight exciting hotels to our portfolio," Vincent added.
The firm is implementing a fast-track transition programme to rebrand the remaining seven Mint Hotel properties and integrate them into Hilton Worldwide systems by early 2012.
—————–
Caption: DoubleTree by Hilton Amsterdam Centraal Station features 553 modern guest rooms. Image courtesy of 2011 Hilton Hotels & Resorts.