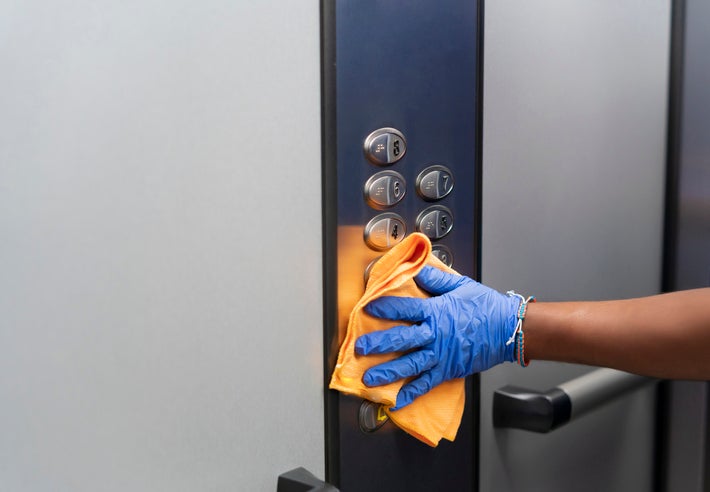 Research conducted by Reckitt Benckiser has shown how germs can move around hotels easily and remain hidden.
Helping hotel spaces protect against the spread of germs is critical to instil confidence among guests, and to potentially reduce workers' sick days at a time when labour and cost challenges are impacting the hospitality industry.
Reckitt's research, channelled through its Lysol Pro Solutions cleaning product, also demonstrates that cleaning and disinfecting at the right time and frequency can help break the chain of infection.
Germ transmission in hotels
Certain surfaces harbour more germs than others and can have a greater impact on their transmission. The most contaminated surfaces in a hotel's communal areas are luggage cart handrails, elevator buttons and the front desk. Often these surfaces are touched more frequently or are oddly shaped (for example, elevator buttons), making them harder to disinfect and hence enabling them to host more germs.
Viruses on high-touch surfaces can be easily transferred to fingertips. In 60% of instances, viruses are transferred from hotel surfaces to guests' fingertips within one hour of the surface being contaminated.
These fingertips may then contaminate more surfaces as guests move around the hotel. According to the research, 9 out of 10 guests with contaminated fingertips then contaminate surfaces such as door handles, light switches and TV remotes with germs, continuing the chain of transmission.
Effective hygiene intervention can help reduce the spread. Appropriate cleaning in a hotel achieves a 79% decrease in surface germ contamination on average.
Effective cleaning and disinfection can help protect a hotel from dawn to dusk. After professional cleaning, it takes 12 hours for surfaces in hotel communal areas to return to pre-cleaning contamination levels.
What are the top hygiene tips for hotels?
Encouraging good hand hygiene among staff and guests to help break the chain of transmission of germs.
Asking staff to stay home if they are feeling unwell and encouraging guests to consider postponing and rebooking their stay if they are sick.
Cleaning and disinfecting high-touch surfaces at key moments and at an appropriate frequency.
Following directions on the product packaging to help ensure efficacy and the safety of housekeeping staff.
Training housekeeping staff on how to clean and disinfect most effectively.