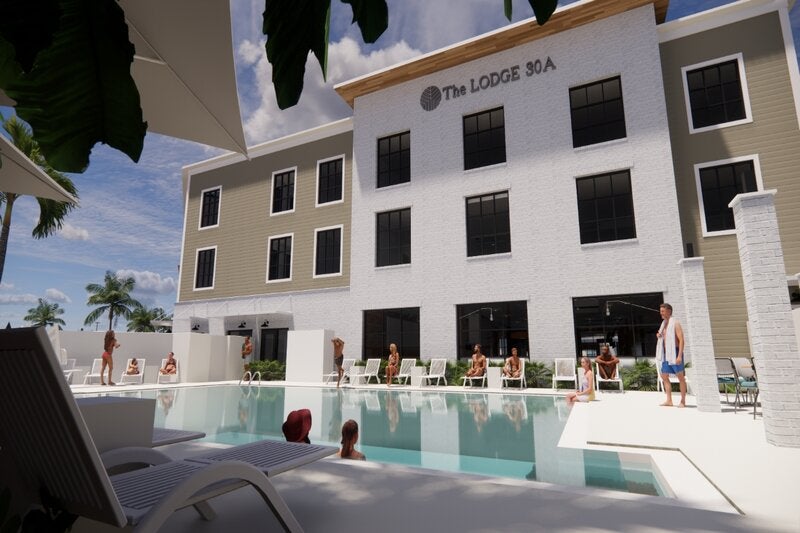 The St. Joe Company and BRW MidGrove (BRW) have revealed plans to establish a joint venture (JV) to build a planned boutique hotel.
Known as The Lodge 30A, the hotel will be located in Seagrove Beach, Florida, US and adjacent to planned mixed use development Greenway Station.
The Lodge 30A architecture and interior design plans would involve the use of natural materials in a contemporarily fashion.
The planned three-storey hotel will feature amenities such as a fitness centre and outdoor pool.
The hotel's site development is likely to commence at once while it is expected to be ready in 2022.
St. Joe Hospitality senior vice-president Patrick Murphy said: "This Seagrove Beach location will offer guests an opportunity to stay in the heart of the popular Scenic Highway 30A corridor, just minutes from the Gulf of Mexico and its white-sand beaches.
"Last year, more than four million travellers vacationed in the area, a number that has been on the rise for several years. This planned hotel provides another option for future travellers as they discover this incredible destination and explore the area's natural beauty."
Once complete, The Lodge 30A will be managed by St. Joe Resort Operations, a subsidiary of St. Joe.
St. Joe Hospitality operates WaterColor Inn and WaterSound Inn and manages The Pearl Hotel in Rosemary Beach, US.
Currently, the company has four additional hotels under construction in Florida that are expected to open in 2021 and 2022.
MidGrove Centre manager Ricky Rookis said: "We are very excited to announce this partnership with St. Joe and to see work begin soon on The Lodge 30A.
"With leasing interest for a significant portion of the restaurant and retail space, we believe that Greenway Station will become a destination for gathering, shopping and dining in Seagrove Beach and that The Lodge 30A will appeal to visitors looking to experience the unique lifestyle that can only be found along Scenic Highway 30A."