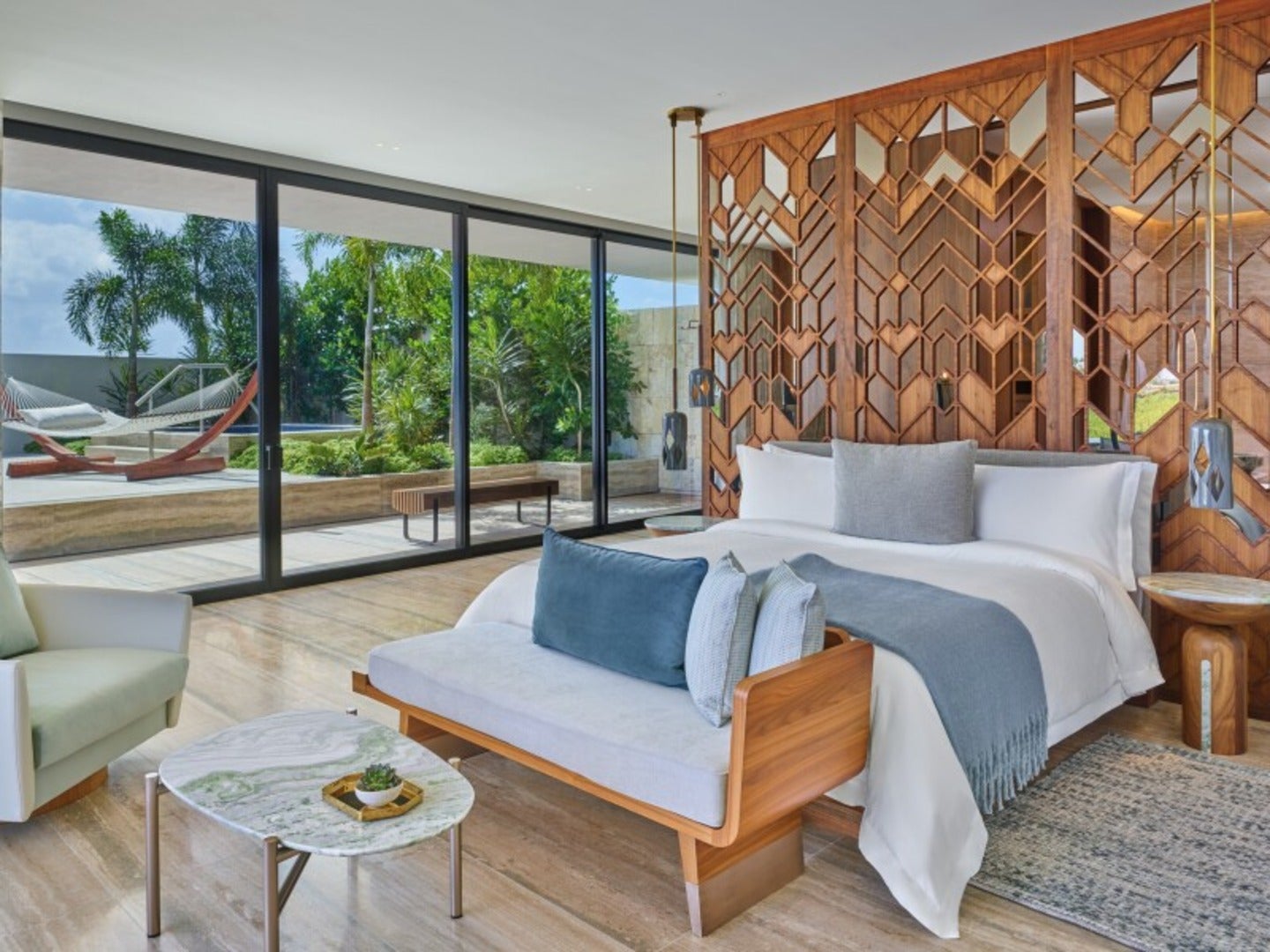 St. Regis Hotels & Resorts, a brand of Marriott International, has opened St. Regis Kanai Resort, Riviera Maya, near Cancun, Mexico.
The resort's architecture draws inspiration from the nearby 620-acre natural reserve and the Sian Ka'an Reserve, a UNESCO World Heritage Site.
The Riviera Maya resort offers 124 guestrooms and 19 suites including a 2,300ft2 presidential suite, with each providing sweeping views of the ocean and boasting of a private terrace or pool.
These guestrooms feature custom hanging mirrors, bedside tables, ceramic lamp pendants, and walnut wood-carved headboards. Furthermore, guests of all room categories can avail the St. Regis Signature Butler Service.
The resort, owned by Grupo Alhel, is a short drive from Cancun and Playa Del Carmen.
It is claimed to serve as a 'gateway' to the region's attractions, including the natural parks and the cenotes, the ocean, and the archaeological sites.
St. Regis Hotels & Resorts global brand leader and vice president George Fleck said: "We are thrilled to welcome The St. Regis Kanai Resort, Rivera Maya to our expanding global portfolio of legendary hotels and resorts.
"The St. Regis brand's founding family, the Astors, were known for seeking out exquisite locations around the globe for their collection of homes, hosting luminaries and vanguards of the day in the most breathtaking natural surroundings. With The St. Regis Kanai Resort, Riviera Maya, we are continuing the legacy of that timeless era of luxury, offering our guests a glamorous hideaway and escape to the extraordinary."
St. Regis Kanai Resort, Riviera Maya multi property general manager David Cayuela said: "We look forward to offering guests exceptional experiences that are a reflection of both the history of the destination and the celebrated traditions and rituals of St. Regis.
"The St. Regis Kanai Resort, Riviera Maya will provide our guests with a sense of exquisite ease, enlivened by the brand's signature Butler Service, which is purposefully tailored for each of our global luminaries."
Mexican architectural firm Edmonds International designed the property with interiors by Chapi Chapo Design.
The Riviera Maya resort is designed with a minimal construction footprint with an aim to protect the natural reserve.
Suspended over a mangrove forest, the hotel's various elements are linked by elevated walkways.
The hotel features eight dining options including the signature restaurant Toro by Chef Richard Sandoval, a Latin-inspired bar and restaurant; Chaya with a menu that brings together local ingredients with Riviera Maya's culinary aspects rooted in the eastern Mediterranean history; and The Library, a tea and chocolate salon.
Among the other amenities provided at the property include a spa, 50,000ft2 indoor and outdoor event space, and indoor and outdoor pools.