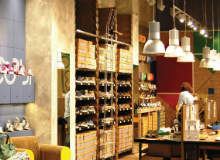 PAM performs interior design and spaces restyling for furniture stores, as well as composition and format for franchise shops.
Our understanding of franchises furniture provide a brand and style awareness that ensures continuity in various franchise stores, presenting immediate identification by the customer, and a more effective communications.
The services offered by PAM provide a competent help in the territory aimed at finding the most expert professionals, taking care of all the paperwork and coordinating work activities for the realisation of the project.