An artist's impression of the Brussels aloft hotel.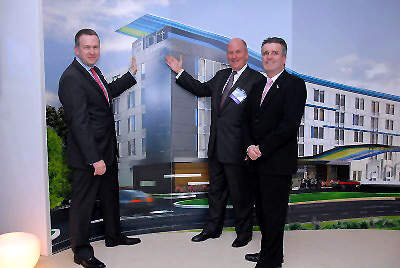 The aloft hotel in Brussels is part of the lifestyle hotel brand 'aloft Hotels', which is based on a unique comfort concept for business use.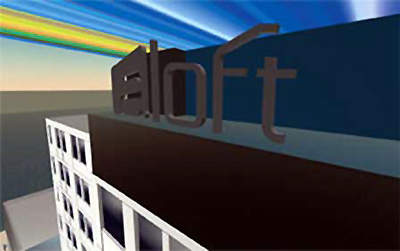 The aloft brand introduced a new concept into hotel stays.
The loft units in aloft hotels are comfortable and well decorated.
Some of the lofts feature kitchen facilities.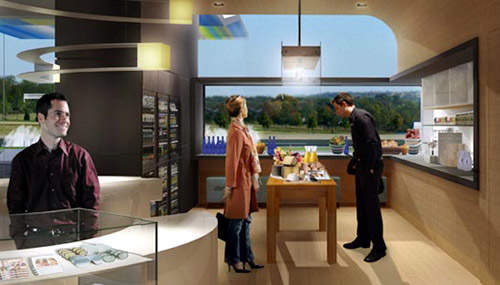 The re:fuel food and drink area.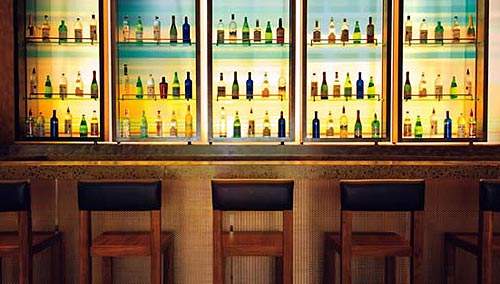 The wxyz bar.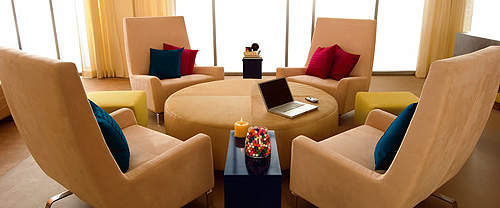 Comfortable areas to relax are part of the aloft hotel's facilities.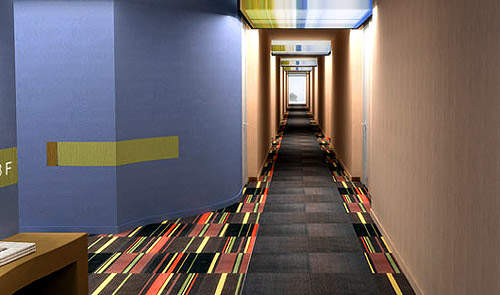 Hotel corridor decoration concept.
The interior of the aloft Brussels is light and airy.
In December 2006 Westwood Hotels and Resorts Worldwide Inc announced it was building a new hotel in Brussels for its newly launched lifestyle hotel brand 'aloft Hotels'. The hotel chain is being launched worldwide and is based on a unique comfort concept for business use.
The first aloft hotels opened in 2008 and 2009 with locations in Beijing, China (2009); Chantilly, Virginia, US (2008); Charleston Airport, South Carolina, US (2008); Dorval, Montreal Airport, Quebec, Canada (2008) and Cucamonga, California, US (2008).
The new aloft brand features A loft-inspired design, with a range of accessible technology in the room / loft units and an urban style. Starwood is targeting the aloft brand at 500 properties worldwide by 2012.
Ross Klein, president of Starwood's Luxury Brands Group and aloft Hotels, said: "We say aloha to Europe with the introduction of aloft Hotels, a new lifestyle brand that will redefine travel, delivering style with substance and a fun new way to play and stay… From Brussels to Beijing and beyond, aloft brings a sassy, refreshing oasis to a global market."
Facilities at aloft Brussels
"The new aloft brand features loft-inspired design, with a range of accessible technology and an urban style."
The aloft hotel in Brussels is situated on Rue Belliard, Leopold, in the 'European' quarter – conveniently located approximately 800ft from the European Commission and European Parliament buildings, and just minutes away from the Council of Ministers building.
The hotel has 147 guestrooms and features all the brands associated with aloft, including the re:mix (community / lobby area), wxyz (the bar) and re:fuel, the one-stop food and drink area, which is open 24 hours a day and sells sweet, savoury and healthy food. There is also the recharge fitness centre and splash, the indoor and outdoor pools, giving travellers options to de-stress and re-energise. The average size of the hotel rooms is 56m².
The aloft has three meeting rooms each 150m². The meeting rooms are installed with state-of-the-art audio-visual equipment.
The Brussels hotel was designed in conjunction with David Rockwell and the Rockwell Group. The new hotel brand offers atmospheric public spaces designed to draw guests from their rooms to socialise and make friends. In these areas guests can read newspapers, work on their laptops via the hotel-wide wireless internet access, play pool or have a drink.
Development of the aloft
Construction of the aloft began in 2007 and was completed by September 2010. It is being run under a 20-year management contract.
The development agreement for Brussels aloft was signed at the 10th Annual International Hotel Investment Forum in Berlin between Westwood Hotels & Resorts Worldwide and Thornsett Group, an Irish property development company (which owns the site in Brussels). This was part of Westwood Hotels' (a subsidiary of Starwood Hotels) introduction of the aloft brand into Europe, Middle East and Africa.
Roeland Vos, president Europe, Middle East & Africa, Starwood Hotels & Resorts Worldwide, said: "With aloft we are reinventing the select service category, and are thrilled to be working with Thornsett Group to bring the first aloft hotel into Europe.
"Brussels is a great city for aloft's first exposure to Europe. The hotel will deliver great style, comfort, design and functionality to travellers. We look forward to this development being the start of a long-term relationship with Thornsett Group."
The 74,000ft² (22,500m²) site of the new hotel was given full planning permission for a mixed-use development with a gross development value of approximately €80m ($105m, £54m). In addition to the aloft hotel, the development includes 108 one and two-bedroom apartments, and approximately 5,000ft² of retail space with parking.
aloft brand vision
The aloft brand features urban-influenced design, accessible technology, style and a social atmosphere. aloft will purport to offer a 'total sensory experience', with the guest lofts featuring 9ft ceilings and oversized windows to create a bright, airy environment.
"aloft offers a 'total sensory experience'."
The centrepiece of the standard loft room is the ultra-comfortable signature bed, and large stylish bathrooms.
The bathrooms have oversized walk-in showers and amenities created by bliss spa®.
Each guest loft is a combination high-tech office and entertainment centre, featuring wireless internet access and plug and play, a one-stop connectivity solution for multiple electronic gadgetry such as PDAs, mobile phones, mp3 players and laptops.
The centre of the media technology is a large flat panel HDTV-ready television for optimal sound and viewing.