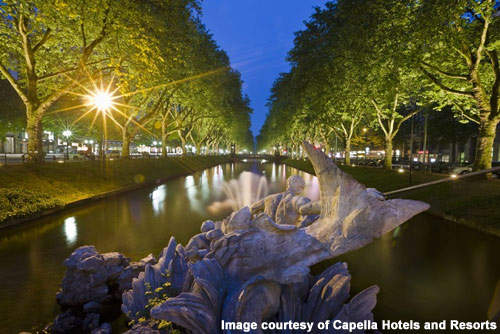 The hotel is near historic landmarks such as the Ko Fountain.
The hotel is on one of the most historic streets in Düsseldorf.
The front entrance of the newly rebuilt hotel.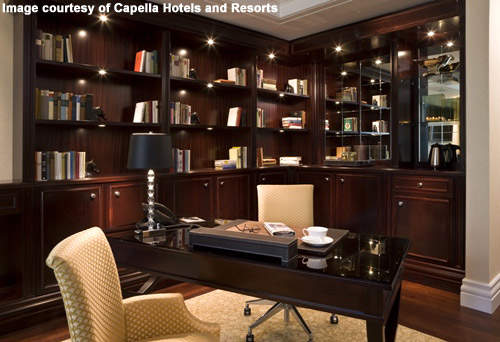 A typical workspace in an Executive room.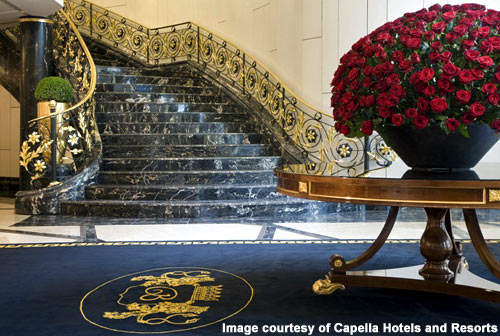 The main staircase leading from the foyer.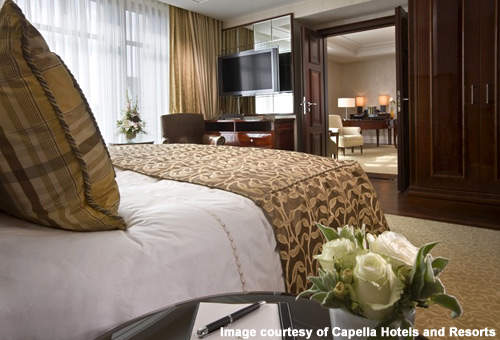 Grand Suite bedroom.
The Breidenbacher Hof is a hotel with a rich heritage that goes back nearly two hundred years. The hotel was first opened on the Königsallee in Altstadt Düsseldorf in 1812 and was designed by the well-known urban designer and architect Adolph von Vagades.
The hotel was patronised by many famed royal guests, such as Russian Czar Alexander II and Prince August of Prussia, and became an icon of style during the period. The hotel was completely destroyed in the bombing of 1943 but was rebuilt and reopened in 1950 in a comfortable, luxurious American style.
"The Breidenbacher Hof is a hotel with a rich heritage."
It again became a prestigious place to stay for the rich and famous. In 1999 The Breidenbacher Hof closed for an extensive reconstruction project. The building was demolished in 2004-2005 and rebuilt by the new owners, the Pearl of Kuwait Group.
On 14 May 2008 the Breidenbacher Hof, a Capella Hotel, was opened as the hotel's third incarnation on the same site as the original.
Architecture
The architecture of the newly built Breidenbacher Hof incorporates a light, natural stone façade and is a reminder of the classical styles of past European grand hotels. The hotel displays elements of art deco and empire styling as the inspiration for its interior design, with sculpted marble and rich hardwood fittings in elegant rooms serving as reminders of the hotel's past.
The new hotel has introduced state-of-the-art technology and has many new shopping and dining opportunities. The developer of the hotel, Pearl of Kuwait Real Estate, began construction of the new Breidenbacher Hof in 2006.
ChandlerKBS provided development and project management services for the construction, Hentrich – Petschnigg & Partner (HPP) was the project architect and Hotel Interior Design (HID) was responsible for the interior design. The hotel is managed by Capella Hotels and Resorts.
Rooms
The new nine-storey hotel has 79 rooms, 16 suites and 18 penthouse residences (standard rooms are generous at 441ft²). Guestroom facilities include central computer controls for all of the rooms' functions – including lights, curtains and air conditioning – at the bedside, flatscreen televisions, iPod docking stations and a bathroom in-mirror television portal, wireless internet access, rainforest showerheads and refreshment centre.
Deluxe Rooms range in size from 441–592ft² and feature either two queen or one king size bed. Capella Rooms range in size from 785–893ft² and include a sitting room and second guest toilet, separate from the bedroom. Executive Suites are 1,033ft² and feature a small work area that can be equipped with business essentials.
"Grand Suites are 1,216ft² in size and have a separate living room, dining area and writing desk."
Grand Suites are 1,216ft² in size and have a separate living room, dining area and writing desk. The Breidenbacher Suite is 1,862ft² and has two bedrooms, a spacious living area, separate dining room, two luxurious marble bathrooms, a work area with large writing desk, separate guest toilet, pantry-kitchen, and specially decorated entrance foyer.
Finally the Presidential Suite is 2,389ft² in size, has two bedrooms, marble bathrooms with a steam bath and Jacuzzi, plus dark wood furnishings, a rich brown carpet and cream-colored textiles, and separate work areas.
Features
Facilities at the new Breidenbacher Hof include:
meeting space and business centre
spa facilities and fitness centre
restaurant
high-end retail outlets
luxury lounge areas
The business centre has three function rooms for up to 75 people including the Kö Suite (16), the Theodor Körner Suite (35), and the Heinrich Heine Suite (75). The gym and spa includes Technogym cardiovascular, strength and free-weights equipment and offers a range of classes.
Boutiques at the hotel include such names as Hugo Boss, Calvin Klein, Marco Polo, Petit Bateau, House of Escada and Schnitzler Perfumery. The hotel is in the centre of the Königsallee, which is the town's premier shopping street and the historic heart of Altstadt Düsseldorf.
The hotel's signature restaurant, 1806, offers regional and international cuisine with seating for 65 guests and views over Düsseldorf's historic district from large, sweeping windows. There is also a separate private dining room for up to 14 people.
The hotel lounge facilities include:
Capella Bar for light snacks, cocktails and wines
Cigar Lounge with leather flooring and dark wood furniture reminiscent of a club lounge, and serving Cuban and Dominican cigars fresh from Breidenbacher Hof's walk-in humidor as well as fine cognacs and dark chocolates
Lobby Lounge offering drinks and afternoon tea for guests and non-residents
Capella Living Room, a private relaxation area where guests can enjoy a drink and a book as well as complimentary coffee and cake.