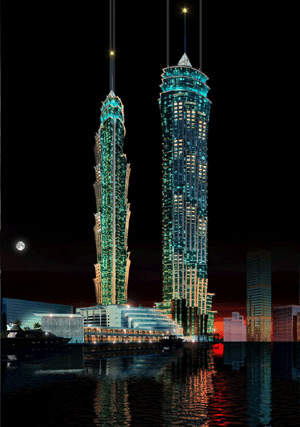 The two towers of the Emirates Park Towers hotel at night. The hotel is located adjacent to Dubai's Business Bay creek.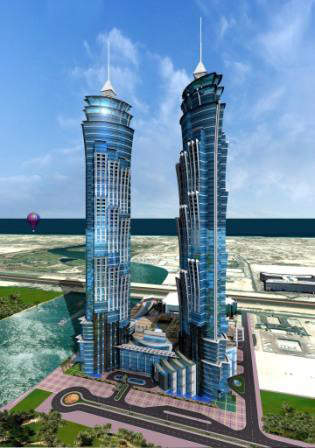 A rendering of the towers by day with their futuristic stepped look formed by the sky terraces.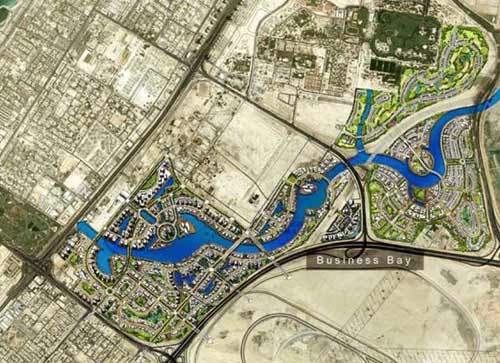 An aerial view of Dubai's Business Bay.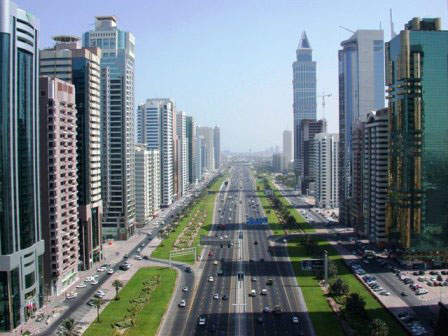 Dubai's business district will be host to a multitude of top-class hotels.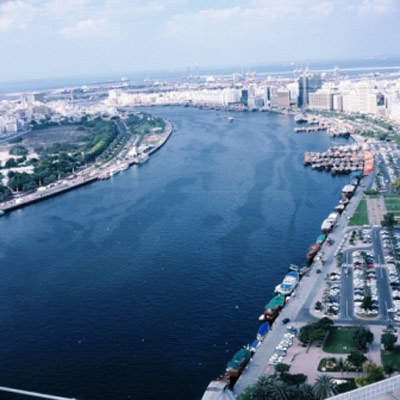 The view of Dubai's Business Bay creek from the Emirates Park Towers hotel.
Emirates Park Towers Hotel & Residence, Dubai, United Arab Emirates (UAE), is being built on Sheikh Zayed Road as part of the Business Bay project by Emirates Airline and Group. The hotel will feature two towers. The South Tower is scheduled to open in 2011 and the North Tower in 2013. Emirates Group will hand over the towers to Marriott International.
When completed, the 80-storey Emirates Park Towers Hotel & Residence will be two hotels that contain 900 rooms and suites, 300 hotel apartments, 31 food and beverage outlets (including 20 restaurants) and extensive conference and banqueting facilities.
The hotel will also feature cantilevered suspended room balconies, sky terraces, the Emirates' exclusive Timeless Spa, a 25,000ft² health club, a large outdoor swimming pool and rooftop bars among a host of utilities and luxury features.
Strategic location
The hotel, which is built on a 20,000m² site, will be surrounded by lush parks and waterways and will be the tallest hotel in the UAE. The hotel is expected to have a total floor area of 348,000m², which will include hotel rooms, service rooms, presidential floors, restaurants and car parking.
"Emirates Park Towers will be the tallest hotel in the United Arab Emirates."
In addition, a restaurant complex will be constructed along the length of the promenade, from Sheik Zayed Road to the hotel towers, and will overlook the Creek canal.
Located behind the Dnata Travel Centre on Sheikh Zayed Road, and flanked by parks and waterways, the hotel will also be connected to Dubai International Airport, Dubai city and Jebel Ali by a new monorail link.
The Emirates Hotel and Resort Group, a subsidiary of the Emirates Group – one of the premium airlines in the world – has a range of exciting projects under construction all over the world. These include the Green Lakes serviced apartment complex and the Marina development in Jumeirah beach in Dubai.
Construction of Emirate Park Towers
The twin towers and podium of the Emirate Park Towers are being constructed by NASA Multiplex, a unit of the Multiplex Group, which is undertaking the contract worth $715m (AED2.1bn). Multiplex started the work in July 2007. Currently the work is in progress and the project is on schedule for completion by 2013.
Contract works will include two 77-storey hotel towers with a roof area and mast structure to an overall height of 395m, a three-storey podium with a two-storey basement car park, an auditorium for 650 people, a banquet hall for 960 people, a business centre, a health club, a restaurant that will extend from ground level to levels six, 72, 79 and 80, internal finishes, fit-out and furniture, and external works and landscaping.
Other companies involved in the construction of the hotel complex include Dubai Properties and the Middle East Foundations Group LLC.
Project background
The Emirate Park Towers project was originally conceived as a single, 350m-tall, 70-storey tower, which was to be completed in 2008 and constructed on Sheikh Zayed Road. However, the design and location was altered because of a change in the route of the Creek extension during construction to form the Business Bay.
The twin 395m glass and aluminium towers will now form a commanding focal point of Dubai's upcoming Business Bay and Sheikh Zayed Road, overlooking the Burj Al Arab Tower centrepiece on one side and the new Creek extension leading to Jumeirah Beach on the other.
Emirates Park Towers design
The futuristic design by Archgroup Consultants features sky terraces and cantilevered rooms that project out of the towers to give a distinctive stepped appearance.
Hotel facilities
All suites will come with a fully equipped kitchen, complete with all modern appliances, a bathroom with a bath / shower, LCD TV with international channels, DVD player and sound system, high speed internet access, daily housekeeping service, same day laundry / dry-cleaning service and 24-hour room service.
"The 395m glass and aluminium towers will form a focal point in Dubai's Business Bay."
Guests will be able to choose from any one of the 20 restaurants, the 24-hour deli and coffee shop with patisserie / bakery, the Mediterranean Spa Restaurant and bar area, and the Signature Penthouse Restaurant.
The Emirates Timeless Spa offers a range of treatments and natural cures. The spa will predominantly use Ayurvedic formulations and ingredients in all its treatments. Guests also have access to the gymnasium and outdoor swimming pool.
There will be a fully equipped business centre and meeting room that is open 18 hours daily. The centre will feature a six-person meeting room, Wi-Fi, glass-enclosed PC stations with full internet access, printing facilities and a private telephone exchange (PABX) as well as a secretarial and PA service provided on request.