Guests will be able to access the new Airrail Centre via road, rail and plane.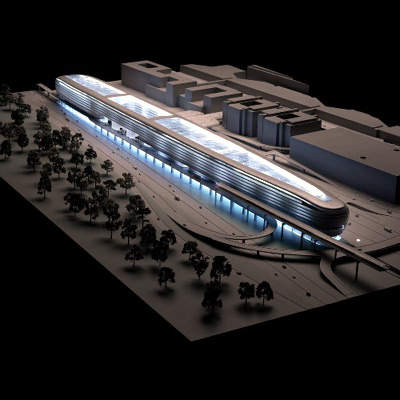 The Airrail Centre will provide travellers with all the amenities they need while on the road.
The Hilton brand is synonymous with advanced technology and a bundled service philosophy.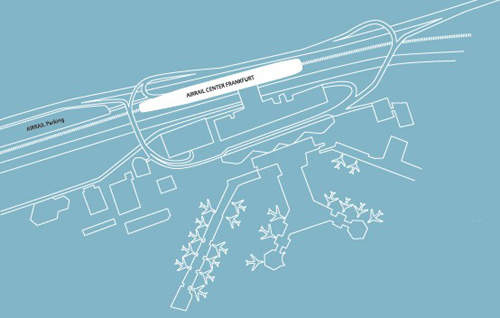 A map of the site of the Airrail Centre, demonstrating its importance as a transport hub in Frankfurt.
Retail space and office space will also be available in the Airrail Centre, with space already rented to KPMG.
The Airrail Centre in Frankfurt will be one of the newest concepts in travel in Western Europe. This architecturally groundbreaking building will become an icon as the centre of mobility for Frankfurt.
The Airrail Centre is designed to integrate air and rail travel in Frankfurt, providing an important link between Frankfurt Airport Terminal 1 and the ICE high speed rail network.
In addition the Arrail Centre will contain all of the facilities the traveller needs: an office in which to do business, two hotels to sleep and live in, shops to make purchases and a range of leisure activities.
The nine-level centre will be 660m long, 65m wide, 47m high and located above the ICE high-speed train station. It will also be within walking distance of Terminal 1, and will be connected to Frankfurt's motorways (located between the A3 motorway and the B43 federal motorway). The Airrail Centre will provide the most mobile workspace in continental Europe. The architect for the project is JSK Architekten.
Airrail development and hotels
"The Airrail Centre will become Frankfurt's centre of mobility."
Construction of the Airrail Centre in Frankfurt began in March 2007 and is scheduled for completion in 2010. The development and construction of the facility is being undertaken by two companies in partnership: IVG Immobilien and Fraport (Airrail consortium).
IVG and Fraport also acquired the Hilton International brand and management for the two hotels in the Airrail Centre.
Hilton will operate two hotels: a high-class Hilton Hotel with 248 rooms and a mid-market Hilton Garden Inn with 334 rooms. Together, the hotels will cover 34,500m² of the 59,000m² leased space in the first section of the building.
The contract with Hilton International is for 20 years and began when the first section of the building was completed.
The 140,000m² facility was €600m to construct. Out of the total area, 94,500m² will be office space, 4,200m² storage and archive space and 5,900m² retail and restaurant space.
In addition to the hotels, 28,000m² of office and 1,000m² of retail space are available in the first section of the Airrail Centre building. Over 5,000m² (60%) of the office space was let to international users in advance. There will also be 13,000m² of landscaped atria and a parking area for 600 cars, as well as connections to adjacent Fraport car parks (a 2,200-space car park is in the planning stage).
Airrail Centre
The size and architecture of the Airrail Centre will shape the appearance of Frankfurt Airport. Future users will benefit from the mobility advantages of this unique transport hub. Frankfurt is one of the world's busiest airports with more than 300 million travellers each year – over 52 million by aeroplane, seven million by rail and 270 million by road.
Manfred Schölch, vice chairman of the executive board of Fraport, said: "The Airrail Centre combines the highest level of functionality and cosmopolitanism with the appropriate ambience. It is real estate for the 21st century, which sets new standards in terms of technology and aesthetics."
Space was rented to KPMG and the Metropolitan Medical Centre. The medical centre focuses on high-performance basic diagnostics in a 'one-stop shop' and additional diagnostics for patients in the immediate vicinity to treat common complaints. If required, patients can use the medical services in conjunction with Hilton Hotels.
Hilton Garden Inn
The upscale mid-priced Hilton Garden Inn brand is known for offering complimentary high-speed internet access in all guestrooms and remote printing to the 24-hour business centre.
"Frankfurt is one of the world's busiest airports with 300 million travellers each year."
"We are pleased to begin construction of the new-build Hilton Garden Inn in Frankfurt, Germany, one of the first locations outside North America… we look forward to offering global travellers a new accommodation
option," said Adrian Kurre, SVP brand management for Hilton Garden Inn.
Operating with the bundled service philosophy, Hilton Garden Inn provides the services and amenities travellers need to be most productive on the road. The hotel's location also provides easy access to Zeil, a well-known shopping area.
Garden Inn facilities
The Garden Inn has three meeting rooms designed to allow natural daylight. A restaurant and a guest business centre are also part of the hotel. Other facilities include a ballroom, a fitness centre, a 24-hour convenience pantry, laundry and drycleaning services and internet access via WiFi throughout the hotel.
The Garden Inn also contains self-service laundry rooms and a lobby area with a fireplace.
Garden Inn accommodation
The rooms of the Garden Inn are classified into guestrooms and suites. The guestrooms consist of evolution rooms – some will also have a pull-out sofa bed. An evolution room is designed for two adults with a single bed, a queen-size bed and a king-size bed.
Garden Inn suites cover an area of 473ft² and consist of a separate living room and a king-size bed and accommodates three adults.
Garden Inn amenities
Every Hilton Garden Inn hotel features a Pavilion Pantry mini-market filled with microwaveable items, sundries and universal cell phone chargers; a restaurant offering a hot made-to-order breakfast, as well as lunch and dinner (in most locations); a Stay Fit Kit; and an onsite guest laundry facility.
The hotel will also feature a 174-seat restaurant and a lobby lounge area.
New in-room features include the Garden Sleep System bed, the ergonomic Herman Miller Mirra chair and the 26in Philips flatscreen high-definition television.
Hilton Frankfurt
"The two new hotels allow Hilton to focus on serving visitors to the airport and the city."
The 248-room Hilton Hotel will feature a 200-seat restaurant called Rise, a bar and lobby lounge called Fifth, Lounge and Bar. It will also include 15,607ft² of meeting space that comprises a 6,458ft² ballroom, which can accommodate 578 guests. Both hotels will share a 5,381ft² workout facility, a swimming pool with whirlpool, and a car park.
"Frankfurt is a fantastic, high-profile entry opportunity for the first Hilton Garden Inn new-build hotel in Europe," said Ian Carter, chief executive of Hilton International.
"This development will give Hilton a strong presence in one of the major airports of Europe, which is set to grow its passenger numbers substantially over the next five years.
"Two new hotels sitting side by side allow Hilton to focus on serving the main segments of the market: visitors to the airport and the city."
Hilton Frankfurt facilities
Hilton Frankfurt has eight meeting rooms, a modern business centre, an ATM and foreign currency exchange. The hotel also features 24-hr room service, high speed internet access and a fitness room with a pool and solarium.
Two executive floors with an exclusive lounge are also part of the hotel.
Hilton Frankfurt accommodation
Accommodation at the Hilton Frankfurt is provided in guestrooms, suites, deluxe and executive rooms. Guestroom facilities include sound-proof windows and twin beds.
Suites are categorised as deluxe suite, executive suite and presidential suite. Deluxe and executive suites cover an area of 589ft² and the presidential suite covers 1,500ft².
All the suites can accommodate three adults. The presidential suite features a kitchen and a dining room, which can accommodate ten guests for a private dinner or executive meeting.
Deluxe and executive rooms can accommodate two adults and feature queen-size, king-size bed or twin beds. The rooms provide access to the executive lounge and feature sound-proof windows.
Hilton Frankfurt amenities
All the rooms in the Hilton Frankfurt feature a flatscreen TV, an electronic safe and an espresso machine. Some of the rooms have a bathroom with a bathtub and shower, mini bar and electronic safe. The presidential suite features a jacuzzi and a walk-in shower.