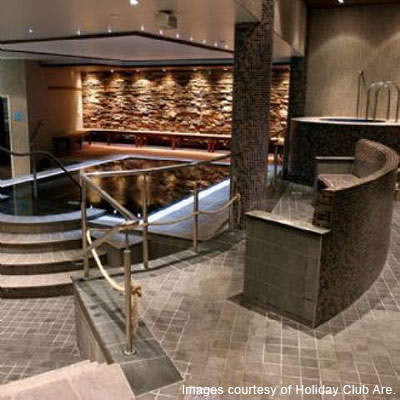 The Holiday Club Åre's sauna complex.
The four-star rooms feature extra-wide double beds.
Computer generated design of the hotel's multi-center complex.
The Holiday Club Åre is very popular during the skiing season.
The Holiday Club Åre offers 205 rooms.
Apartments range from 67m² to 118m².
Pine flooring has been installed throughout.
External views of the hotel complex.
Interior design sketches of the main building.
The pool complex has 11 swimming pools.
The four-star Holiday Club Åre hotel forms part of a multi-centre complex constructed adjacent to Lake Åre, Sweden. The hotel opened in November 2004 and is operated by Holiday Club, a Finnish chain that includes six spa hotels throughout Finland.
The hotel complex is the largest building in the town and the largest complex of its kind in northern Sweden. The hotel operates throughout the year but is particularly popular during the skiing season. Åre hosted the World Alpine Skiing Championships in 2007.
The construction of the hotel began in November 2002 and opened in November 2004. The hotel was developed as a joint project between Holiday Club, Åreforetagarna (a local business association) and the municipality of Åre.
The project was supported by the National Board for Industrial and Technical Development (NUTEK) and the European Union. Total investment for the project amounted to SEK500m (€56m).
FACILITIES
The 22,500m² hotel and multi-centre complex provides a host of facilities equally suitable for tourists, business visitors and conference attendees. The hotel includeds 205 rooms, each fitted with two extra-wide double beds that can be separated into singles if required. There are also 157 timeshare apartments with one to three bedrooms.
The hotel also has six suites, three equipped with a sauna and three with a Jacuzzi.
There are 17 conference rooms able to seat between eight and 1,500 people. Each room comes fully equipped with multimedia facilities, satellite reception, Wi-Fi and dedicated hospitality services.
The largest conference hall can be subdivided by automated soundproof screens lowered from the ceiling.
Four restaurants offer formal dining, family menus, pizza and Chinese food. There are also three bars and a coffee shop serving drinks and a wide range of food 24-hours a day.
One of the bars features a bowling area and an indoor miniature golf course. A sports shop is available for equipment purchase and hire, guide hire and as an advisory centre.
ACTIVITY RESORT
The complex was designed as an activity resort for non-residents of the hotel. With a 3,000-visitor capacity, the complex's facilities include 'SaunaWorld', which incorporates six different 'sauna concepts' including traditional Finnish, eucalyptus and a steam room.
"The hotel complex is the largest building in the town and the largest complex of its kind in northern Sweden."
There are 11 swimming pools including a bubble pool, a 21m² plunge pool and cooling off pool, an outdoor heated pool and a water slide.
Extensive outdoor facilities are available during the summer months: Lake Åresjön is host to a large water sports centre offering canoeing, fishing, water skiing, motor boating, jet skiing, sailing and wind surfing. Additionally, there is an 18-hole golf course, tennis courts, hockey pitches and children's activity areas.
Other outdoor activities include mountain biking, whitewater rafting, horse riding, mountain climbing, trekking and paragliding. Winter activities include alpine and cross-country skiing, dog sledding, snowmobiling, skating and snowboarding.
CONTRACTORS
Evata of Finland were the architects for the project, with PEAB of Norway the general contractors. The hotel is a traditional Nordic construction and used locally sourced natural stone and wood. The flooring was constructed from natural pine and was installed by specialist subcontractor WOW Flooring AB.
All of the fixtures and fittings of the hotel were produced, where possible, from locally sourced materials and hand crafted/fitted by local companies and individuals.