The Hotel Terra in Wyoming is in one of the most popular winter ski resorts in the US.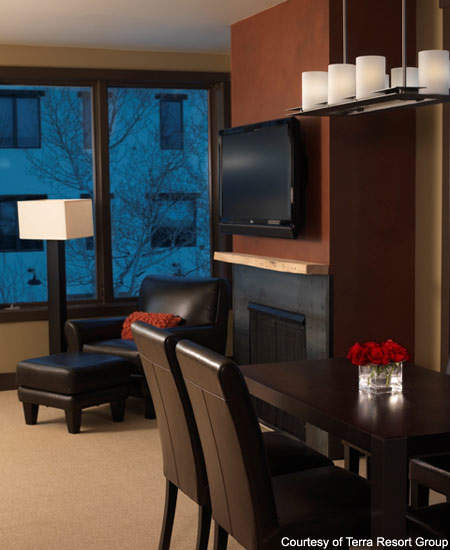 The hotel is only the sixth in the US to gain LEED certification.
Hotel Terra features innovative water-saving features such as dual-flush toilets and waterless urinals.
Guestrooms in Hotel Terra include environmentally friendly beds and in-room recycling facilities.
One of the new watchwords in travel and hospitality these days is 'eco-tourism' and the demand for such a product has been on the increase over the last decade. Travellers are becoming more aware of their effect on the environment and want to take a vacation that is 'green'. One of the ways they can do this is by using an eco-friendly hotel.
A new offering in this category is the Hotel Terra, situated on a half acre site in the Jackson Hole ski resort near Yellowstone National Park in Teton Village, Wyoming, US. It is located 12 miles from downtown Jackson and 22 miles from Jackson Hole Airport.
Hotel Terra opened in February 2008 and features a range of ecoaware facilities. A 68,000ft² expansion to the hotel was completed in July 2009.
The hotel is US LEED certified and has been constructed using recycled and renewable materials such as roof shingles, bamboo, marble, crushed glass, teak, seat belts and granite chips.
There are only five LEED-certified hotels in the US. In August 2009 the hotel was awarded with the Automobile Association of America (AAA) Four Diamond rating.
Hotel Terra is the first of around 12 eco-boutique resort hotels developed by the Terra Resort Group (TRG). The series of hotels is expected to be completed by 2015.
Accommodation at Hotel Terra
"Hotel Terra features a range of eco-aware facilities."
The six-storey Hotel Terra has 132 guestrooms including urban studio rooms, Terra guestrooms and one, two or three-bedroom suites. The studio room is equipped with a kitchen and a fully furnished living area.
The Terra guestrooms have spacious entrance foyers and 9ft-high ceilings. The rooms include king and queen-sized beds.
The suites have spacious rooms and large terraces. All guestrooms and suites offer DVD player, 42in LCD flatscreen hi-definition TV and wi-fi access. Other amenities available include an MP3 player docking station, an in-room recycling programme, a personal safe and a twice daily housekeeping service.
Meeting facilities
Hotel Terra has 5,000ft² (4,200ft² was added in July 2009) of meeting space. It includes a 2,950ft² ballroom and 500ft² to 750ft² of meeting rooms.
Spa
Hotel Terra has a chill spa located on the top floor. The spa includes six treatment rooms with vaulted ceilings. Two of the treatment rooms offer a deep-soak Jacuzzi, a picture window and a gas fireplace.
Dining at the Hotel Terra
There are two restaurants at Hotel Terra. The Il Villaggio Osteria restaurant has a capacity for 65 people and features a large al-fresco patio. The restaurant is equipped with a bar and offers Italian cuisine.
The Terra Cafe restaurant offers breakfast, coffee and tea and uses organic ingredients. Other facilities at the hotel include a 1,700ft² plunge pool and a 1,000ft² fitness centre.
Hotel Terra's green features
LEED features used in the construction of Hotel Terra include recycled 'Eco Shake' roof shingles. The contractors also used low-VOC (volatile organic) carpets, sealants, paints and adhesives. In addition, fly ash from burning coal was used to replace 50% of the cement used in the concrete for the building.
The hotel has a range of energy-saving features such as personal energy-efficient heating and cooling zones for guests. Radiant heating in the floor of the underground car park minimises heat loss and energy use.
Air quality and moisture filtering technology are used alongside energy-recovery technology to recover 81% of the heat from the exiting stale air and Energy Star windows with IR reflective low-E coating to save energy loss. There are also innovative water-saving features such as dual-flush toilets, waterless urinals and rainwater capture.
Hotel Terra used 80% recycled steel in its building structure."
Hotel Terra also uses chemical-free cleaning and laundry products but guests are asked to conserve towels.
The hotel, which was designed to maximise the use of natural lighting, used 80% recycled steel in the building structure and 50% of the construction waste generated was reused or recycled. The hotel uses wind power for 35% of its electricity. Light pollution has also been eliminated to avoid affecting the wildlife.
Organic Terra bed
The Terra Bed was designed by Hotel Terra to be environmentally friendly. The natural mattress was manufactured by Vivetique and has a whipped natural latex core wrapped around recycled steel springs, and is encircled with 'green cotton' treated with a natural flame retardant.
The bed also incorporates 100% organic cotton sheets, pillow cases and duvet covers from a fair trade Indian supplier.
Hotel Terra contractors
Callison Architecture designed Hotel Terra. The design elements include: steelwork, rough-sawn timber, granite stonework, flagstone fireplace and terracotta natural coloured plaster walls. DHS General Contracting was the general contractor for the project.
Wheeler Electric was also a part of the Hotel Terra design-build team, installing a 4,000amp Square D main switch. Wheeler Electric also installed electric Comfort Cove radiant heaters from Radiant Systems of Nebraska, in the guest units.
Two systems were installed by Bylin Systems including a roof ice melt system (continuous-heated aluminium and copper panels) and the WarmGlo electric radiant heat system as underfloor heating in guestrooms (self-regulating heating cable technology).
"Hotel Terra uses wind power for 35% of its electricity."
Telecommunications systems include nonplenum cable by Superior Essex, system devices from Leviton, loop cable hangers from Arlington Industries and fibre optics cables by Corning terminated with 3M connectors.
SimplexGrinnell certified the fire alarm system, which Wheeler installed.
Wheeler also installed a GRAFIK Eye preset lighting control dimmer system by Lutron Electronics of Coopersburg, Pennsylvania, in the Terra Cafe.