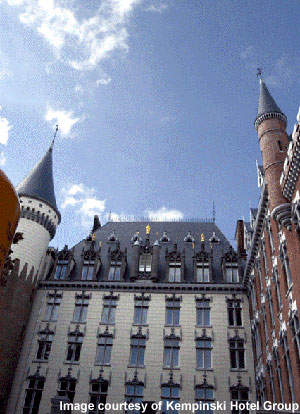 The Kempinski Hotel Duke's Palace was originally a 15th-century convent and castle.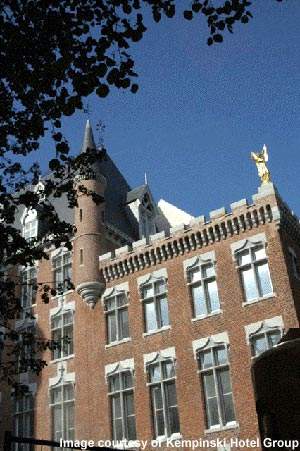 The Kempinski Hotel Duke's Palace has 95 rooms and suites.
The Kempinski Hotel Duke's Palace will be Bruges' only five-star hotel.
The Kempinski Hotel Duke's Palace in Bruges, Belgium, is one of the country's most luxurious hotels. Opened in 2008, the property was developed from the reconstruction and restoration of a 15th-century convent and castle (Prinsenhof).
The centre of Bruges is a recognised and protected UNESCO heritage site, so development in the mediaeval centre is rarely allowed; however, through careful development of the hotel's basic structure and the preservation of its façades, the Kempinski will become Bruges only five-star accommodation. It was awarded TripAdvisor's Certificate of Excellence 2011 for obtaining excellent reviews in the world's largest interactive travel forum website.
The Kempinski is located 200m from the city's market square and is close to all major attractions.
Accommodation at the Kempinski Hotel Duke's Palace
The Kempinski Hotel Duke's Palace offers 95 rooms, including 22 suites and junior suites. The hotel's design has retained many original architectural features and fittings.
All of the rooms and suites are equipped with flatscreen LCD televisions, pay-per-view films, high-speed internet access and Wi-Fi, a mini bar and a personal safe. All of the bathrooms are equipped with underfloor heating, a bathtub and a separate shower.
Some of the named suites have special facilities: the Triplex Suite has stunning views over the old city, while the Marie Bourgougne Suite is decorated with 15th-century paintings.
Hotel facilities
Facilities at the Kempinski Hotel Duke's Palace include fine dining at the Restaurant Manuscript, a bar and two lounges (drinks will be served on a garden terrace during the summer).
A ballroom, two 38m2-meeting rooms and a ten-seat boardroom are equipped for conferences. There is also a business centre.
"The interior designer and architect for the Kempinski Hotel was Inter Art Etudes."
The hotel also features a fitness/wellness centre (spa and gymnasium). The 355m2 boutique Spa has a fitness area, indoor pool and two treatment rooms offering a range of massages and facials. In addition, the hotel has a chapel and park.
Kempinski Hotel Duke's Palace contractors
The hotel project begun in 2003. The main engineers were Tractebel Engineering and Technum (designers), and the interior designer and architect was Inter Art Etudes.
The bathroom underfloor heating systems were supplied by Tyco Thermal Controls. Cebeo of Belgium provided materials and fittings.