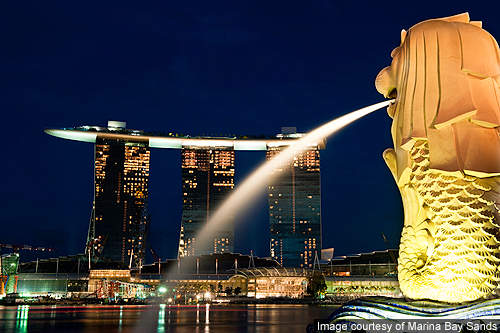 The three-tower Marina Bay Sands resort opened in 2010.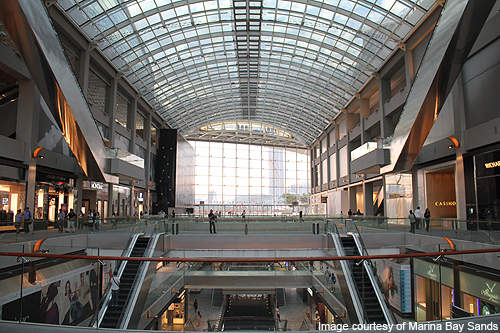 Marina Bay Sands features the Shoppes shopping mall (pictured), a convention centre, a hotel, a shopping mall, dining facilities, theatres, a museum and a casino.
The Marina Bay Sands theatre can accommodate 4,000 people.
Marina Bay Sands is an integrated resort located at Marina Bay, Singapore. Opened in 2010, it offers business, leisure and entertainment facilities.
The resort was designed by US-based architect Moshe Safdie and developed by Las Vegas Sands Corporation at an estimated cost of $8bn.
Spread over six million square feet, Marina Bay Sands features a convention centre, a hotel, a shopping mall, dining facilities, theatres, a museum and a casino.
Three 55-storey towers connect to the Sands SkyPark, a one hectare roof park.
Arup and Parsons Brinkerhoff provided engineering support to the resort and the interiors were designed by Rockwell Architecture. SsangYong Engineering and Construction was the main contractor for the resort's construction.
Accommodation
"Marina Bay Sands is an integrated resort."
The Marina Bay Sands hotel has 2,560 rooms. Accommodation includes the Atrium, Horizon, Orchid Marina, Bay, Presidential, Chairman, Singapura, Merlion and Istana suites, as well as Club rooms.
The suites range in size from 968ft² to 5,478ft². Orchid suites guests can access the Sands Club, which is located on the 57th floor.
These suites offer high-speed wireless internet, cable TV and films on demand, an in-room safe, a mini-bar, coffee and tea-making facilities, and executive work desks. Smoking and non-smoking rooms are available.
Dining at Marina Bay Sands
The hotel's fine and casual dining options serve a range of cuisine Chinese, Italian and Mexican.
They also cater for candlelight dinners, birthday parties and private dining functions.
Conferencing facilities
The Marina Bay Sands offers rooms for meetings, conferences and exhibitions, while the Sands Expo and Convention Centre accommodates business events.
Sands SkyPark
The Sands SkyPark can accommodate up to 3,900 people. Its cantilevered platform offers views of the Singapore skyline.
Below the SkyPark, on levels 55 and 56, is the Banyan Tree spa. It opened in mid-2010 and has 15 treatment rooms within a 20,000ft² area. It also includes a health club, a fitness centre and a juice spa.
Other SkyPark facilities include a golf course, a QUBE Kids Club, casino blocks and shopping malls.
The QUBE Kids Club provides PC games, internet access, play stations and X-boxes to children aged 6-17. The club also has two big-screen TVs and two football and air hockey tables.
"The Marina Bay Sands hotel has 2,560 rooms."
A 50,000ft² art and science museum was unveiled at the grand opening ceremony of the resort on 17 February 2011. The museum has a retractable roof that can be opened for laser shows during the night. It also has a theatre, floating pavilions and 21 galleries.
The museum features sustainable components including rainwater collection facilities. The collected rainwater is recycled and used in the facility's restrooms. Glass fibre reinforced polymer was used to construct the museum.
Casino
The resort's $5.94bn casino has more than 1,000 gaming tables and 1,600 slot machines. The casino is expected to generate revenues of more than $1bn a year.
Finance
An initial investment of $3.85bn was made to construct the site. This later escalated to $8bn due to a rise in material and construction costs in 2008.