The MGM Grand is the first casino in Detroit.
The MGM Grand cost $800m.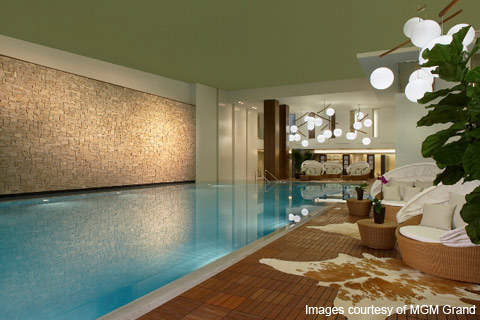 The pool is part of the hotel's 20,000ft² spa.
The Wolfgang Puck Grille, situated near the casino floor.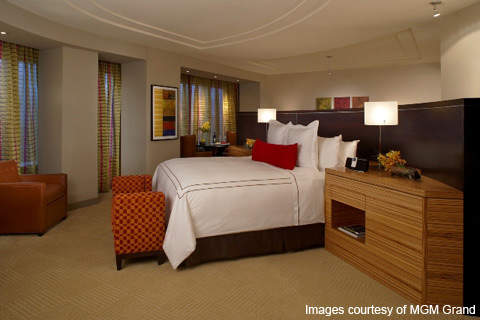 An Executive King room.
The hotel lobby lounge.
MGM Grand has become the first company to open a casino in the US city of Detroit, Michigan. MGM had already spent around $220m on a temporary casino in 2002 before the permanent casino resort could be built (the temporary casino occupied two buildings and a garage that was formerly used by the US Internal Revenue Service). The permanent casino cost $800m and opened in October 2007. It currently employs 3,000 personnel.
RESORT
The 17-storey resort complex sits on top of a three-storey podium and offers 400 rooms, inlcuding 65 suites.
The casino has 100,000ft² of gaming space with 90 table games offering Texas hold'em, high tie blackjack, pai gow and roulette. There is also an eight-table poker room.
"The 17-storey resort complex sits on top of a three-storey podium."
The third floor has 30,000ft² of business and reception space with a 14,000ft² grand ballroom (1,200 capacity); three 1,600ft² meeting rooms (Amber, Garnet and Sapphire), and two 710ft² executive boardrooms (Onyx and Quartz). The resort also has a parking garage capable of accommodating 5,625 cars.
SPA AND GYMNASIUM
The 20,000ft² Immerse spa and salon is situated on two levels and offers six treatment cabanas, a wet room equipped with a Vichy shower, a beauty salon, relaxation rooms, a spa boutique, steam rooms and saunas and an infinity edge pool. Skin care specialist Sonya Dakar provides signature skin treatments.
There is also a 2,000ft² gymnasium area with state-of-the-art cardiovascular and weight-training equipment, treadmills, cross-training machines, free-weights and elliptical trainers.
RESTAURANTS
The MGM Grand Detroit offers three signature restaurants by Michael Mina and Wolfgang Puck. Mina's Bourbon Steak is a traditional steakhouse grill and cocktail bar, while the Saltwater seafood restaurant features a lounge and two 12-seat private dining rooms.
"The casino has 100,000ft² of gaming space with 90 table games."
The Wolfgang Puck Grille is a classic bar and grill serving modern American cuisine. The restaurant can accommodate 190 guests and is open 24-hours on Friday and Saturday.
The Palette Dining Studio features five different areas: Brazilian Grill, Seafood, Mongolian Grill, Field Greens and Dessert.
The Breeze quick-service dining area has five different restaurants including Crunch for fries and fried chicken, Red Sauce for Italian food, Bamboo for stir-frys, Relish for hot dogs and burgers and Sweet for ice cream, muffins, homemade pastries and pies.
ENTERTAINMENT
The resort also has several nightclubs including V, which has a 5,000ft² lounge, 70ft² VIP area and a 500ft² outer bar, IGNITE, a tapas bar and cigar room and the Brazilian-themed AGUA nightclub, which serves 35 types of rum and 20 types of tequila.
The U-ME-DRINK is a 300ft wine and cocktail bar in the centre of the casino while INT ICE is a small piano lounge that serves classic cocktails.
CONTRACTORS
The resort was designed by Hamilton Anderson Associates and Smith Group. Other contractors included Tre Builders LLC, Colasanti Corporation, Tony Chi Associates and SuperPotato.