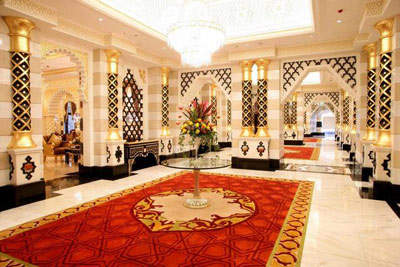 The lobby of the Qasr Al Sharq hotel, in Jeddah, Saudi Arabia.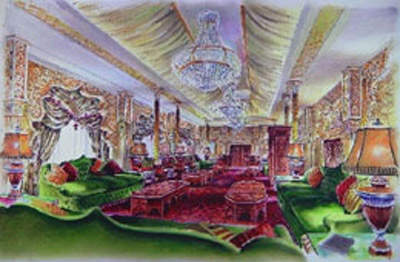 An artist's impression of the dining room (majlis) in the palace suite.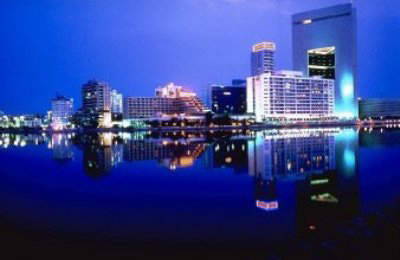 A view towards the North Corniche (where the Qasr Al Sharq hotel is situated) from the Red Sea.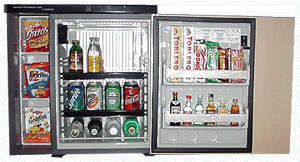 A minibar is installed in each room with 26 electronically controlled beverages and snacks for sale.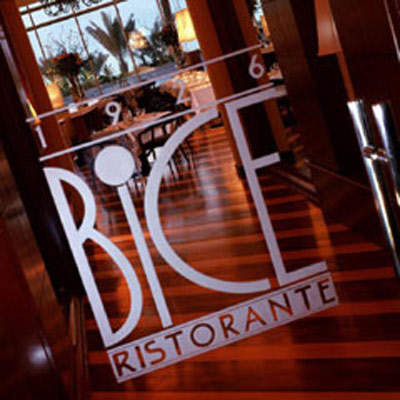 Bice serves traditional Italian food on the second floor of the Qasr Al Sharq hotel, overlooking the Red Sea.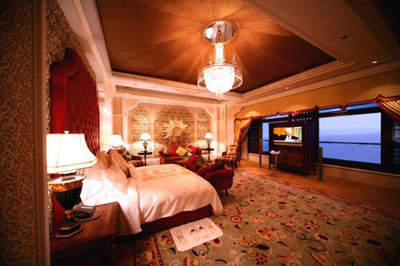 All beds are adorned with 600-thread cotton linen, with custom designed gold-thread embroidery.
The Qasr Al Sharq (Palace of the Orient) in Jeddah, Saudi Arabia, is an all-suite luxury (palace) hotel, which opened in May 2006. The property, which has 46 suites, is managed by Hilton and is located along the North Corniche in Jeddah, adjacent to the Hilton's existing 414-room hotel in the city.
Qasr Al Sharq is a nine-storey triangular-shaped granite building with oriental architectural design and faces the Red Sea.
Qasr Al Sharq accommodation
The hotel has two palace (Qasar) suites each covering half a floor (1,000m²), with two master bedrooms, a private sitting room, a large formal majlis, large dining room and kitchen, and a private health club that includes a gym, sauna and Jacuzzi.
In addition, there are eight Royal Suites, 12 Executive Suites and 24 Junior Suites. The Executive Suites have separate dining and sitting areas and can be connected to the adjoining suites. All the suites are fully equipped with state-of-the-art technology for audio-visual equipment, WiFi internet access and automated controls for lighting, curtains, temperature control and refreshment.
Elegant refinements
The Qasr Al Sharq has 60kg of gold leaf on its decorative ceilings, which took six months to apply. The décor also includes a Swarovski chandelier, which graces the main staircase, with 600,000 crystals chained together, gilded in 24-carat gold and 260 lights.
"Interior designers spent time working to blend colour and textures created specially for Qasr Al Sharq."
The mosaic floors are adorned with different types and colours of marble, hand-picked from around the world. As part of the decoration there are 1,200 crystal vases, designed in Italy, in more than 25 different designs; porcelain china in five different types including Raynaud, Rosenthal and Artichaut; intricate mosaics and the world's best fabrics.
All beds are adorned with 600-thread cotton linen designed in Venice, Italy. The texture resembles satin, and the gold-threaded embroidery was custom designed to complement the room's décor. Each duvet cover was embroidered with over one million stitched threads of fine gold.
Bathroom amenities include leading international brands Hermes and Acqua de Parma, and a variety of 20 different oriental-scented soaps have been ordered exclusively for the Palace bathrooms. Interior designers spent a great deal of time researching Arabic designs and working to blend colour and textures created specially for Qasr Al Sharq, giving it a unique feel and ambience.
Personalised services
The hotel offers a highly personalised butler service with 17 butlers – trained by the International Guild of Professional Butlers – ensuring that each and every individual need and request is fully met, and that accommodations are kept in immaculate condition, 24 hours a day.
Luggage retrieval and airport transfer via a luxury limousine, driven by specially trained chauffeurs, is another service the hotel offers. The rates range between £766 (SAR 5,000) and £7,656 (SAR 50,000) plus 15% service fee per night. These rates include 'on demand' housekeeping, as often as required, as well as breakfast, wireless internet access, a laptop in the room and late check-out.
Dining at Qasr Al Sharq
Food and beverage outlets include two restaurants featuring Italian and Middle Eastern cuisine along with private dining facilities. Bice, the internationally known Italian restaurant serves traditional Italian food on the second floor of the hotel overlooking the Red Sea. It accommodates 96 seats with a private dining room for 12 guests.
"The restaurants service team is fluent in Arabic and English."
Guests may also experience the best of Middle Eastern cuisine at Mataam Al Sharq Oriental restaurant. Served in a sumptuous setting and located on the second floor, it has 100 seats with private dining facilities available for 10-30 guests. Both Mataam Al Sharq and Bice are open for lunch and dinner. Al Shurfa Lounge serves tea and coffee.
The service team at the restaurants are specially trained in communication skills and are fluent in Arabic and English. The staff at the Bice restaurant receive theoretical training. In addition, they are briefed as to the geographic history of Bice's recipes, and receive hands-on training in the preparation of each dish.
Business centre and spa
The Qasr Al Sharq has seven themed boardrooms equipped with latest audio-visual technology and networking and communication.
The spa at the hotel is offered by Clarins of Paris. It includes an aquamedic pool and a cafe that serves health-conscious food. The pool pumps underwater jet streams that massage and relax the body. The spa massages are selected from all over the world. A fitness centre and a traditional Hammam are located adjacent to the aquamedic pool.
Project contractors
The entire project was conceived as a turnkey project from initial design stage through to the final construction, furnishing and decoration, by Haif Company in Riyadh. The interiors were designed by London-based KCA International, whose top-tier portfolio includes Dubai's luxury Burj Al Arab hotel.
Bartech supplied automatic mini-bars in a 40l capacity as a part of the hotel's advanced technology equipment. A total of 26 electronically controlled beverages and snacks are for sale in each room. Data communication between the B32 / 11BB mini-bars and the Bartech server run through the hotel's ethernet network. The equipment is supported by Bartech Emirates Fze. Versace designed the Bice restaurant.