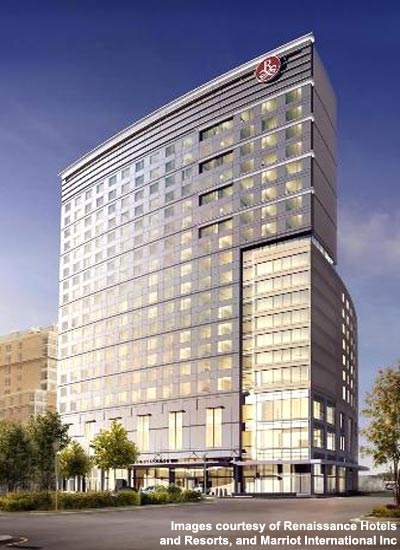 The Renaissance Boston has added to the Boston skyline.
The lobby cocktail bar.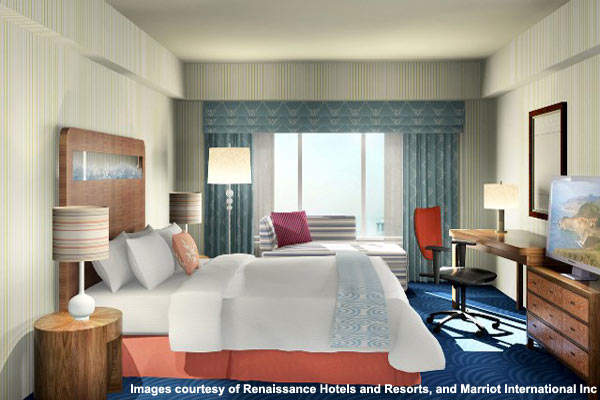 One of the 471 guest rooms.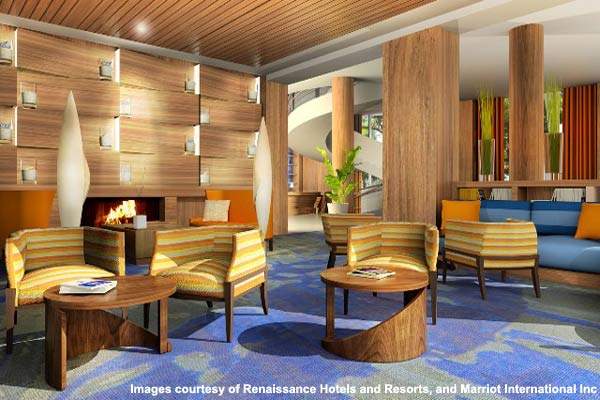 The hotel's library area.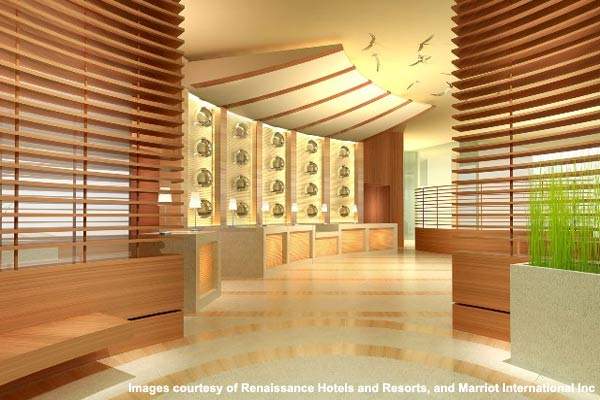 The lobby area.
The Renaissance Boston is set to become one of the most sought after hotels in Boston, boosted by a unique waterfront position and situated near the financial district, Boston Convention & Exhibition Center, tourist areas and Logan International Airport.
The hotel is being developed by Renaissance Hotels & Resorts and will be the company's first hotel in Boston. The flagship hotel will be managed by Marriot International Inc. The cost of the project has been estimated at $165m.
CONTRACTORS
"The architecture of the hotel has been inspired by its seaport setting, with its unique sail design adding to the Boston skyline."
The hotel architect was Kling Stubbins of Cambridge, Massachusetts, with the interior designed by Cheryl Rowley of Beverly Hills, California. The general contractor and project manager was Payton Construction.
The architecture of the hotel has been inspired by its seaport setting, with its unique sail design adding to the Boston skyline. Supporters of the hotel development include Massport, the Boston Redevelopment Authority and the Boston Mayor's office. The hotel officially opened on 3 March 2008 (partial opening on 22 January 2008).
FACILITIES
The 21-storey hotel offers 471 guestrooms, including 21 luxury suites. There is over 21,000ft² of flexible meeting space, with a 10,700ft² ballroom and a 4,400ft² junior ballroom conveniently located on the same floor of the hotel.
Additional facilities include a fitness centre with cardio room, lap pool, spa treatment rooms with hydrotherapy pool, sauna and steam room, and an outdoor terrace.
Each of the guest rooms have air conditioning and climate control, cable TV, LCD TV, high-speed internet or Wi-Fi, electrical adapters, voice mail, business desk, mini-bar and tea and coffee facilities as well as 24-hour room service and late dining service.
DESIGN HIGLIGHTS
The interior decor makes use of marine-inspired elements, melding vivid colours and dramatic finishes into the hotel's custom-crafted commissioned artwork, furnishings and fittings. The interior design team took inspiration from luxury liners of the golden age of cruising in the 1930s and 1940s, including the Normandie, the Queen Elizabeth, the Libertine, and the Nieuw Amsterdam.
TECHNOLOGY
The Renaissance offers a DS-3 line for internet/high-speed file transfer; operating 28 times faster than the speed of a T-1 line, allowing guests to stream video, host video conferences and run simultaneous internet-based presentations.
There is also innovative guestroom integrated plug-in technology for laptops, MP3 players, camcorders and digital cameras, along with a 37″ television.
RESTAURANT
The 606 Congress restaurant serves modern US cuisine. The restaurant kitchen is overseen by Toby Hill, a well known chef who has contributed to the kitchens of a number of famous hotels. The restaurant has both indoor and outdoor seating with two private dining rooms, an exhibition kitchen, and a communal chef's table.