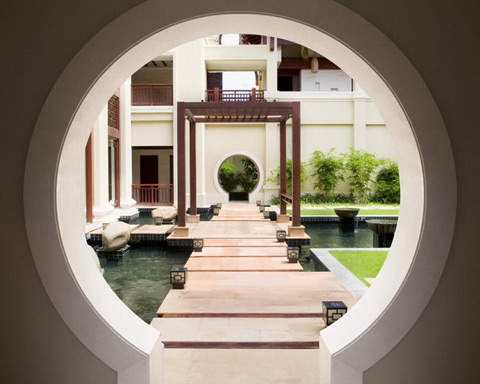 Espa: a keyhole to the walkway.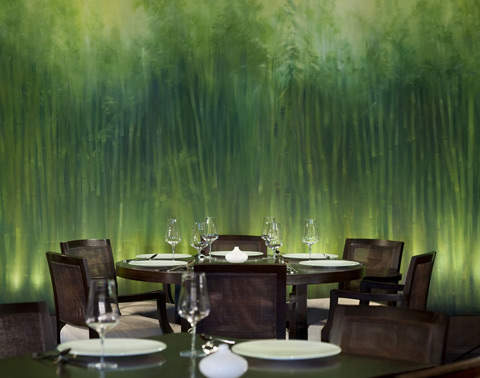 Pearl: green bamboo tables.
A three-bedroom villa living room.
The path through the villas at sunset.
The Ritz-Carlton Hotel, Sanya, China, which opened on 25 April 2008, was designed by WATG, one of the world's leading design consultants in the hospitality sector. The hotel design was inspired by Beijing's Summer Palace, which has pavilion-style buildings, high pitched ceilings, dark, rich wood, intricate carvings and mosaic detailing.
The Ritz-Carlton is a tropical seaside tourism resort located in the exclusive area of China's Yalong Bay, also known as the "Oriental Hawaii".
The hotel has 450 rooms, eight restaurants and lounges, the only oceanfront wedding chapel in Sanya, nine meeting rooms and a business centre, as well as a private beach with magnificent views of the South China Sea. It also houses the largest spa in the region, a fitness centre, two championship golf clubs and an exclusive shopping arcade with luxury brands.
"The hotel design was inspired by Beijing's Summer Palace, which has pavilion-style buildings."
Design and structure
The hotel blends Asian graciousness with western modernity. "The focus of this design concept has been to create a five-star, world-class destination resort with international appeal," says Brad McNamee, vice president of WATG.
"We were required to develop a state-of-the-art resort that blends harmoniously with the natural beauty of Hainan Island yet reflects the culturally rich and diverse heritage of China and South East Asia."
The hotel's main building is U-shaped and has a total of 450 rooms, including 334 guest rooms of more than 60m² – the largest in Sanya – and 66 rooms and suites. These also include 33 pool villas and 21 luxury suites. All guest rooms offer breathtaking views as the hotel is located between the pristine white sand beach of Yalong Bay on one side and a mangrove reserve on the other.
Rooms and spa
The guestrooms have big private balconies and marble-tiled five-fixture bathrooms with rain showers and stand-alone bath tubs. The 66 Club rooms and suites are located in an exclusive wing and accessible by private keycards. They offer a personalised concierge service and a private, ocean-view Club Lounge serving all-day complimentary gourmet food and beverages.
The Ritz-Carlton spa, designed and operated by ESPA, is the biggest spa in the region, with an area of 2,788 square metres. It is inspired by the five Chinese elements – metal, wood, water, fire and earth. The spa offers cool mist showers, jade steam showers, outdoor vitality pools with jets, and several relaxation and fitness studios. It has 24 private treatment rooms with sea views – six of which are private spa suites. It also features an aquatonic swimming pool.
Facilities
Dining facilities at the Ritz-Carlton Sanya form the Culinary Shell, a host of eight dining outlets. It follows the principle of SPICE – simple, pure, innovative, consistent and engaging.
"The Ritz-Carlton spa, designed and operated by ESPA, is the biggest spa in the region."
Fresh 8 is an all-day dining restaurant offering eight show kitchens in a colourful and modern setting. The Scene lounge is located in the heart of the lobby and offers sweets, snacks and drinks. Pearl has six private rooms and serves new Cantonese cuisine.
Sophia features exceptional southern Italian cuisine and Sand offers fresh seafood and a barbecue in a beachfront setting. Zig is an after-dinner experience with perfectly aged cognacs and a cigar bar. Cube is a poolside bar offering innovative cold beverages and Mood is the culinary companion to ESPA.
The cutting-edge conference and meeting facility has a flexible meeting space and function rooms. Spread over 1,700m², it includes a 900m² grand ballroom that can be divided into quarters with nine meeting rooms and a business centre.
Other facilities of the Ritz-Carlton Sanya include a welcome kit for each family, a guest relations team, a fleet of Mercedes-Benz R Class Limousines, a florist, two tennis courts with night lighting, beach volleyball and a beach football court. There is also a fitness centre, which includes a fitness studio, kinesis studio and chi studio.
The Ritz-Carlton Hotel Company has 72 hotels in the Americas, Europe, Asia, the Middle East and Africa. The company has twice received the prestigious Malcolm Baldrige National Quality Award.