Le Meridien bedrooms are luxurious and comfortable, and are decorated in a simple, elegant style.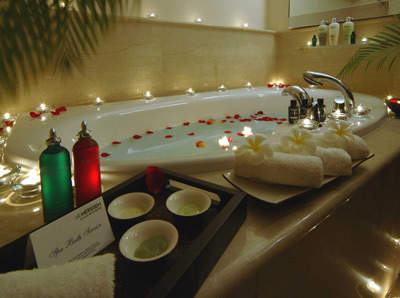 Le Meridien bathrooms provide a level of service rarely seen in the luxury hotel market.
The hotel is in the Shanghai district of Huangpu.
The 60-storey Shimao Plaza building under construction. The hotel occupies 48 floors.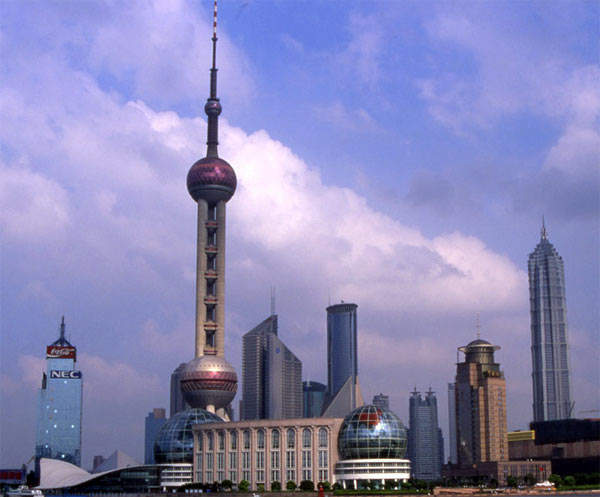 The Shimao plaza building can be seen next to the TV tower, forming a varied skyline for Shanghai.
Le Royal Meridien Shanghai hotel opened in October 2006, signalling the aggressive growth plan of the Le Meridien brand since it was acquired by Starwood Hotels and Resorts Worldwide in November 2005. The ultra-luxury, technologically advanced five-star hotel is located between Nanjing Road East and the greenery of People's Square and has made its mark as a new urban icon.
The 48-storey hotel is contained in a 60-storey high rise building, which is one of the Shanghai's tallest buildings (the Shimao International Plaza, measuring 333m spire height and roof height 246.5m.
Le Royal Meridien Shanghai is located close to the Museum of Contemporary Art. The hotel was designed by Bilkey Llinas & Associates and the whole building was configured to adhere to strict Feng Shui design principles. The whole building cost ¥3bn to construct.
Accommodation of Le Royal Meridien Shanghai
Le Meridien Shanghai has 761 guestrooms and suites with floor-to-ceiling windows providing dramatic views of the Huangpu River, People's Park and the ever-changing Shanghai skyline. The rooms are categorised as: royal club deluxe rooms, junior suites, deluxe suites and deluxe residences.
"Le Royal Meridien Shanghai adheres to strict Feng Shui design principles."
The royal club suites are available from level 44 to level 63 of the building. Suites measure from 517ft² to 4,058ft² and consist of a living room with a working area and sofa, one or two bedrooms and a spacious bathroom. The regular rooms of the hotel are spread over a 38m² area.
Each guestroom includes individually controlled air conditioning, a 42in plasma screen satellite TV and a combined DVD, VCD and CD player.
Other room amenities include an international direct-dial telephone, wireless and broadband internet access, a glass bathroom with a rain-shower system and a central floating wash basin, and separate sofa seating.
Conference facilities
Le Royal Meridien Shanghai has 12 meeting spaces equipped to handle a variety of events, from small board meetings to executive conferences, galas and weddings.
The grand ballroom as an 870m² area that accommodates up to 480 people. The 2,000m² banquet facility includes a pearl ballroom with a 150-seating capacity and one VIP room. The hotel has five parlour rooms, including a boardroom that accommodates up to 20 people and a conference room with a 72-seating capacity. The hotel also has a business centre.
All the meeting spaces fully equipped with built-in technology. The conference facilities include a simultaneous translation system, state-of-the-art audio and video equipment, a sound system, an LCD projector and screen, professional lighting equipment, high-speed internet access and computer rental.
Spa facilities
Eight private luxury treatment suites at 'Le Spa' offer a respite from the frenetic energy of Shanghai. The 'Le Spa' experience is a fusion of Asian culture, Chinese wellness and European treatments designed to restore and revitalise the weary traveller.
Dining at Le Royal Meridien Shanghai
"Le Spa offers a respite from the frenetic energy of Shanghai."
The hotel features four restaurants and two bars offering a variety of cuisines from around the world. 'Le Bistrot' is an all-day restaurant providing a mix of international, Asian and Western dishes.
Cantonese cuisine with Shanghainese and Sichuanese signature dishes is available at 'Ai Mei'.
French cuisine with the flavour of the Mediterranean is offered at 'Allure' French Restaurant, while 'Favola Ristorante, Pizzeria and Wine Bar' presents Italian dishes.
Cocktails, coffee and tea and small dishes are available at 'Le Salon' Lobby Lounge and fresh juices at 'Chill Juice Bar'. The '789' Nanjing Lu Semi-Private Club located on the top three levels of the hotel. The club offers excellent views of the city and has a seafood ice bar, a cigar room and a private lounge.
Designers and contractors
"The total floor area of Le Royal Meridien Shanghai is 170,000m&sup2."
Shanghai Shimao Group was the developer (the original developer Wan Xiang Group was bought out in 2001), Le Royal Meridien Shanghai being the group's first major luxury hotel project.
Construction of the building commenced in December 2001, topped out in 2005 and finished later in 2005. As well as the 48-floor, five-star hotel there is also a nine-floor shopping mall and three floors of exclusive clubs.
The architect was Ingenhoven Overdiek und Partner and East China Architectural Design & Research Institute Co. Construction and engineering on the building was carried out by Shimao Group, Happold Consulting Engineers Ltd (Buro Happold Engineers) and Brandschutz Planung Klingsch GmbH.
The building is made of reinforced steel and concrete construction and the total floor area is 170,000m².