Sharq Village & Spa is a five-star spa resort hotel developed by Qatar National Hotels Company.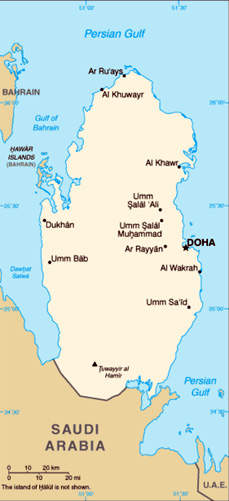 Doha is ideally located for tourists to explore the rest of Qatar and the Middle East.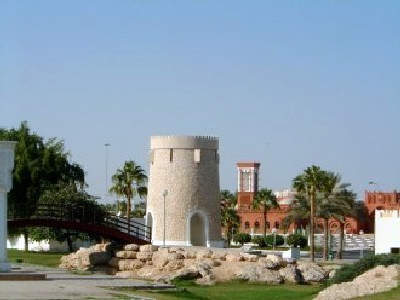 The older buildings of the Corniche are a huge draw for tourists interested in traditional Middle Eastern culture and architecture.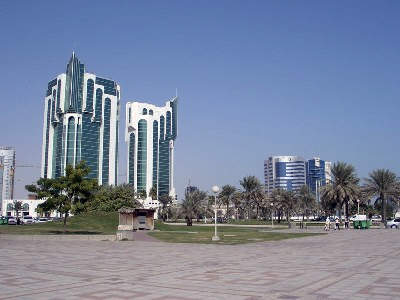 Although the new Spa has adopted the image of a traditional Qatari village, Doha is a modern and affluent city with excellent shopping facilities.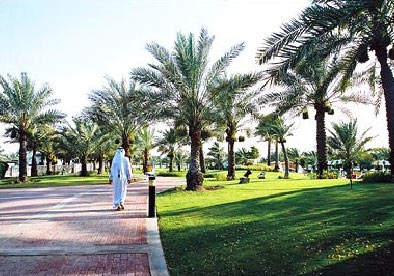 The Corniche is a pleasant restful area for guests of the Sharq Village and Spa, hidden away from the hustle and bustle of the city.
Sharq Village & Spa, which is managed by the Ritz-Carlton Hotel company, was opened at Ras Abu Aboud, Doha, in October 2006, just in time for the Asian Games in Doha.
The five-star spa resort hotel was developed by Qatar National Hotels Company. The resort combines traditional architecture and modern facilities in a unique Qatari village architectural style. The amenities have been designed to meet the requirements of international leisure and business travellers.
The 98,083m² resort includes 174 luxury rooms and suites furnished to lavish standards, a Six Senses spa, a traditional Qatari souq, restaurants and entertainment. The resort is five minutes' drive from Doha International
Airport. Wireless internet access is available throughout the $110m (QR195m) hotel.
Sharq Village & Spa
The hotel is located in a secluded beach cove at the beginning of the Doha Corniche between the Doha Club and the Doha Marriott Gulf Hotel. The resort is surrounded by the Corniche beaches, which are a great asset.
The Sharq Village & Spa has been designed so that it recreates traditional Qatari life, reflected in the resort through old sikkas, pathways, courtyards, gardens and fountains.
"The Sharq Village & Spa has been designed so that it recreates traditional Qatari village."
The resort contains a toal of 19 buildings. The main building amenities include the restaurant, café, cigar lounge, ballroom and function rooms – equipped with state-of-the-art audio and video equipment. A boardroom for business conferences with a business centre dedicated to business travellers is available.
The main building also includes shops that have been designed to resemble traditional Qatari souqs. The main swimming pool covers a massive 668.43m², and there are another two large pools.
Sharq Village accommodation
The hotel offers accommodation in four tiers. The 48m² deluxe rooms are decorated with artworks by local artisans and furnished with pieces from Syria, Lebanon and Qatar. Spacious marble bathrooms with a deep soaking tub and a separated glass-walled shower, rooftop terraces, courtyards and fountains are all part of the deluxe room package.
The villa courtyards feature cool inner courtyards, fountains, decorated arches, antique furnishing and ceilings composed of Qatari wood and woven palm trees. The courtyard is enclosed with cushioned majlis areas, wood-trestle verandas, wood-barred windows and canvas-shaded flat roofs.
The hotel's one-bedroom resort and sea view suites cover an area of 104.5m² and feature décor of Qatari chests, lanterns, hand-carved wood and inlaid brass, pebbled glass and hand made carpets. The Royal Villa Beit Al Shyoukh is an example of 'kingly' lifestyle.
The 2.099m² villa is divided into two wings. The guest accommodation wing includes the royal suite, guest suite, a pair of two-bedroom suites and a pair of king suites, along with majlis seating areas, a study and dining room. This wing is decorated with Qatari-designed handrails, stone carvings and hand-made Arabian carpets.
The villa features a marble-inlaid, hand-carved wooden desk, a four-poster, canopied bed with 1,050-threadcount sheets, a blue marble-tiled bath, an en-suite walk-in wardrobe, a Jacuzzi tub tiled with indigo mosaics and 18-gold karat vein pattern and an outdoor patio.
The other wing, which is connected by a overhead walkway, includes a temperature-controlled indoor swimming pool and Jacuzzi, a gymnasium with floor-to-ceiling windows, a kitchen, a multipurpose bar area, rainforest showers, a locker room, sauna, a steam and wet treatment room opening out to a balcony fitted with a hand-made bathtub and outdoor shower facilities.
Dining facilities
There are four restaurants at Sharq Village & Spa. Al Dana serves French, Mediterranean and Asian cuisines and features a show kitchen, sushi counter and an outdoor terrace with views of Doha Bay.
"There are four restaurants at Sharq Village & Spa: Al Dana, Al Liwan, Al Wanis and Al Jalsa."
Al Liwan serves Lebanese delicacies, Al Wanis Shisha Terrace offers al-fresco dining with an Oriential menu, while Al Jalsa is an exclusive dining facility featuring desserts from the Arabian world. The cigar lounge has a luxurious colonial-style interior, perfect for guests to relax and enjoy cognac and cigars such as Cohiba, Behike and Partagas. The cigar lounge also includes a walk-in humidifier, a first in Qatar. The lobby is a good place to savour cakes accompanied by coffee and tea. Al Seef is a snack and pool bar and serves international dishes.
Six Senses spa
Six Senses Spas was selected to develop and operate a 5,200m² Six Senses Spa at the resort, the largest of its kind in the Gulf Region. Six Senses aims to deliver experiences that are unique and memorable, focusing not only on pampering the body, but also the mind and soul.
The pyramid of six spheres used to identify Six Senses Spas represents the philosophy that is fundamental to the human experience. The foundation spheres represent the three primary senses of sight, sound and touch. The second level balances on this foundation by satisfying the more acute senses of taste and smell. The apex sphere symbolises a sense of elation discovered only by balancing the first five.
These spas are designed as contemporary hideaways, reflecting their ability to adapt seamlessly to host cultures in surroundings that rejuvenate and revitalise. Six Senses Spa therapists are highly trained and take guests on exhilarating sensory journeys through many forms of holistic healing, body and beauty care options, resulting in a sense of wellbeing.
The 71,500ft² spa looks like a true Middle Eastern village that has grown organically over time, with winding village streets rather than corridors, and with 23 treatment suites resembling typical village houses.
"The pyramid of six spheres used to identify Six Senses Spas represents the philosophy that is fundamental to the human experience."
The treatment area includes two hammam rooms and three Thai rooms, cellar treatment rooms and dry spa treatment rooms. There are dry flotation beds, heated marble wet beds and private steam rooms available in each spa treatment room.
The main areas of the spa feature facilities such as saunas, steam rooms, Jacuzzis, plunge pools, ample changing rooms, fully equipped fitness clubs and dedicated areas for yoga, meditation, tai chi and other Eastern practices, as well as relaxation rooms and prayer rooms.
The facilities have been duplicated so that men and women are offered dedicated private facilities.
Women have a private entrance and reception as well as a club facility with several majlis areas and a professional salon for hair, nail, beauty and henna treatments.
The gymnasium includes the latest cardio and weight-training equipments.
Meeting and conference areas
Sharq Village & Spa includes six meeting rooms covering an area of 1,130m². The Al Dasha and Al Sonbouq ballrooms have built-in screens, a data projector, sound system and wireless internet.
The 270m² Grand Foyer accommodates up to 250 people for receptions. A fully equipped business centre is also available.
Contractors
The interior design aspect of the Sharq Village & Spa was designed by DiLeonardo International. Qatar National Hotels operates the hotel along with Ritz Carlton. Arab Engineering Bureau are the architects.
Six Senses Spas developed the facility together with Arab Engineering Bureau as the architects and P49 of Thailand as the interior designers.