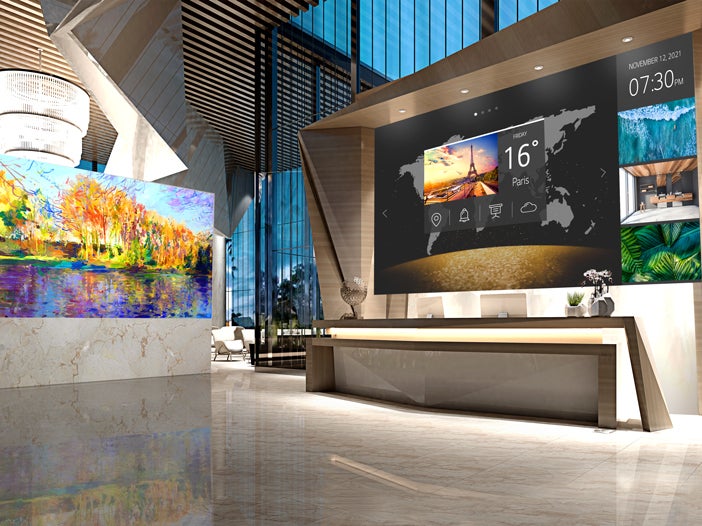 Let's set the record straight. LG offers quite a bit more than TVs. "Our products empower people: they guide, they inform, they entertain and, consequently, they serve both the hotel and the guest," said Yannis Pagoulatos, European Head Vertical Markets, LG Electronics Europe B2B.
Verdict spoke with Pagoulatos about technology, the latest hospitality solutions and where the hotel industry is headed in the aftermath of COVID-19 outbreak.
LG is currently offering the hospitality industry everything from hardware to software to niche tech, such as UV-C light disinfecting robots.
"The goal is to honour and empower the guest to feel more comfortable. That doesn't happen simply through a power-on/power-off display. Instead, we integrate different software solutions that help the hotelier and guest to communicate effectively while improving the operational efficiency of the hotel."
About the hotel technology
LG has introduced options like the IPTV system, which interfaces with guest devices. Built around LG's Pro:Centric Platform, the system lets guests watch a movie from their personal multimedia library, book hotel spa services, access golf course schedules, communicate with the concierge or simply request room service, all from their own device.
"It improves the guest experience and allows the hotelier to manage this information centrally, all while enabling personnel to respond faster and more easily to guest requests," said Pagoulatos.
In 2021, that is more important than ever. According to Deloitte, "Companies that adapt their offerings to reflect changing preferences and behaviours demonstrate their desire to listen, understand and respond to their customers. In the near term, this can help deepen consumer trust in the organisation, fostering the kind of bond that can drive future growth and success. Consumers will remember the brands that paid attention and 'took care' of them."
In all likelihood, the hotel guest of 2021 – and beyond – will be looking for contactless options and a personalised guest experience, as well as great service. The best brands are doing this through remote check-in options, software that limits contact and technology that integrates with guest devices.
Where business travel is headed in a post-COVID era
"Of course, what's important to understand is how guest habits are changing during this period. We've seen a lot of digitalisation and working from home," said Pagoulatos. "While this may limit business traveling, it's also an opportunity to enhance the facilities that help guests work virtually, as well as the facilities outside of the in-room experience. We know that the in-room experience is only 75% of a guest's stay."
"OTAs are always interested in the check-in experience, and we can provide this digitally through their mobiles, through digital displays in the lobby (both touch and no-touch interactive) or in person, depending on guest preferences and hotelier choice."
It may include tailoring long-stay packages for them. "Essentially, we need to adapt our offers to complement what guests are now looking for, including creating products that fit the new consumer norms in the post-COVID era. "
Hotelier confidence in 2021
It's been a turbulent year for nearly every industry, and the hospitality sector is no exception. Pagoulatos noted, "We're seeing a lot of willingness to prepare for reopening. It's been very active compared to last year and, fortunately, 2022 is going to be better still."
Yannis Pagoulatos and Pawel Zaworski will be presenting 'LG Smart Hospitality Solutions in a Post-COVID Era' at the International Hotel Technology Forum on the 27th and 28th of April. Interested in attending? You can register here to reserve a place.