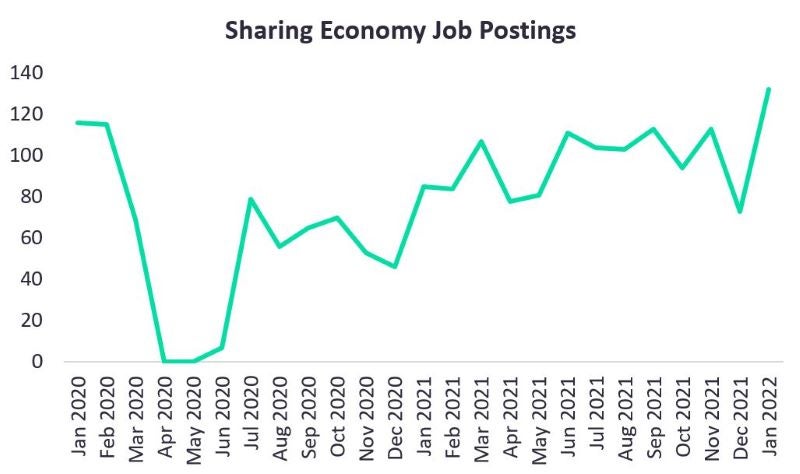 The onslaught of the sharing economy, and in particular the rise of Airbnb, has caused significant disruption across industries and communities.
Airbnb finds success, even in Covid-19
A news release from Airbnb (February 3, 2022) reported that Airbnb Hosts have earned a total of $150bn since 2010, including $60bn in the US. Furthermore, with the pandemic spurring a renewed interest in domestic travel and staycations, Airbnb has been able to weather the Covid-19 storm. According to Airbnb's Q3 2021 shareholder letter, Airbnb recorded its highest ever revenues in Q3 2021, up nearly 70% year-over-year and surpassing Q3 2019 levels by 36%, demonstrating the strength of the travel rebound for Airbnb.
Sharing economy platforms have emerged on the back of radical changes in consumer habits, with Generation Hashtag leading the trend. According to GlobalData's Q4 2021 Consumer Survey*, 12% of global respondents used an accommodation sharing website such as Airbnb the last time they booked a holiday. This rises to 14% of GenZ and 16% of Millennial respondents. Moreover, accommodation sharing platforms have the largest penetration among consumers in the Philippines (22%), South Africa (21%), Mexico (19%), Indonesia (19%) and Malaysia (18%).
The hospitality industry has not escaped unscathed
Airbnb and its counterparts have revolutionised entire industries with their so-called "creative disruption". Owing to the increasingly rapid spread of the sharing economy model, and the explosive growth of Airbnb, traditional companies have not been able to afford to ignore this trend. In 2016, Accor Hotels acquired Onefinestay, which focuses on providing high-end, luxury accommodation sharing options, to protect its main business from the impact of the sharing economy. Even OTA's such as Booking.com have established a presence within the sharing economy, by offering home rentals through its online platform.
To keep pace with this trend, companies need to identify which of their services are susceptible to competition from sharing economy players, to protect their existing and potential customer base. According to GlobalData's Job Analytics, there were a total of 1,146 job postings pertaining to the sharing economy in 2021, a 69.5% increase from 2020. Going forward, effective responses may incorporate sharing economy models into their existing portfolio, entering strategic partnerships with sharing economy players, and making employment decisions to implement sharing economy offerings.
A history of battles with regulators and politicians
As the economic power of Airbnb has grown, regulatory and policy opposition has been seen in towns and cities worldwide. Critics, including some powerful hotel unions, report that Airbnb contributes to rising rents and creates noisy transient traffic to residential neighbourhoods. Airbnb has launched a series of PR campaigns to challenge this message. Nevertheless, Airbnb still faces pushback in almost every major US and European city. For years, city leaders in New York have fought to limit the proliferation of short-term rentals. In Portugal, efforts to regulate Airbnb rentals and increase housing stock are underway.
Meanwhile, the Irish government passed legislation strictly regulating Airbnb-style rentals in 2019. Since 2016, cities in Spain's Catalonia region have had the legal power to take over properties that have not had tenants for over two years. The law was aimed at bringing affordable housing on to the market, not combating Airbnb-style rentals. However, the law has rarely been called upon.
*GlobalData Consumer Survey Q1 2021 – 21,768 respondents.