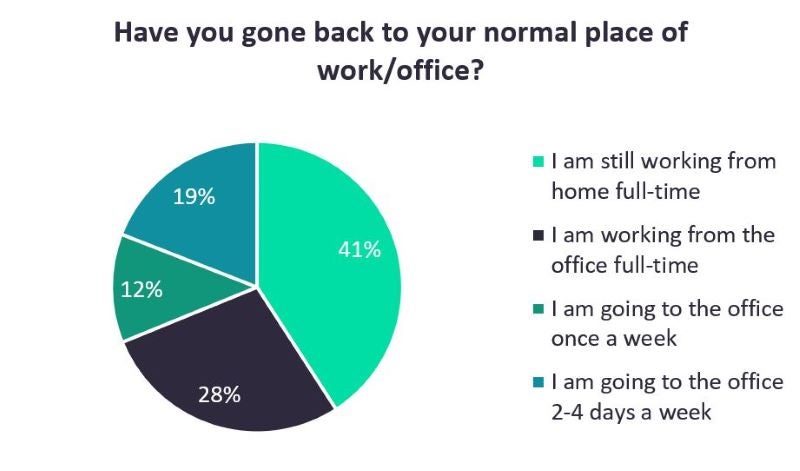 Digital nomads, and remote workers in general, can be a considerable boon to any economy and tourist destination. Provisions at destinations and hotels must be in place to attract this lucrative traveller.
Prime time to attract digital nomads
Covid-19 accelerated the work-from-home trend, with many companies making the transition full time, or allowing for increased flexibility with a hybrid work model, including Airbnb, Twitter, Spotify, Google, and Microsoft. Indicative of this trend, a live GlobalData poll* shows that 41% of respondents are still working from home full time. Remote workers are increasingly leveraging their remote jobs to allow them to work and live in tourist hotspots and countries around the world are scrambling to attract the growing class of remote workers known as "digital nomads".
Indonesia, for example, is reportedly seeking to lure longer-staying, higher-spending travellers back to its islands with a five-year digital nomad visa. Other countries that offer a form of digital nomad visa include Australia, the Czech Republic, Portugal, UAE, Estonia, Germany, Thailand, Italy, Spain, and Brazil, among many others. These visas can cost individuals anywhere from $0 to $2000 and typically require proof of income, travel insurance, and intent to depart.
Local economies can reap benefits
GlobalData's Social Media Analytics reveals that mentions of 'digital nomads' have steadily gained momentum.  From 2020 to 2021, social media posts mentioning 'digital nomads' increased by 111% year-on-year. In the first five months of 2022, social media posts related to 'digital nomads' increased by 124% from the same period in 2021. Furthermore, a net sentiment analysis reveals from 2019 to the present day (21 June 2022), 'digital nomads' achieved an average net sentiment score of 0.84 (1 is positive and 0 is negative), showing that attitudes towards this traveller type are trending positively.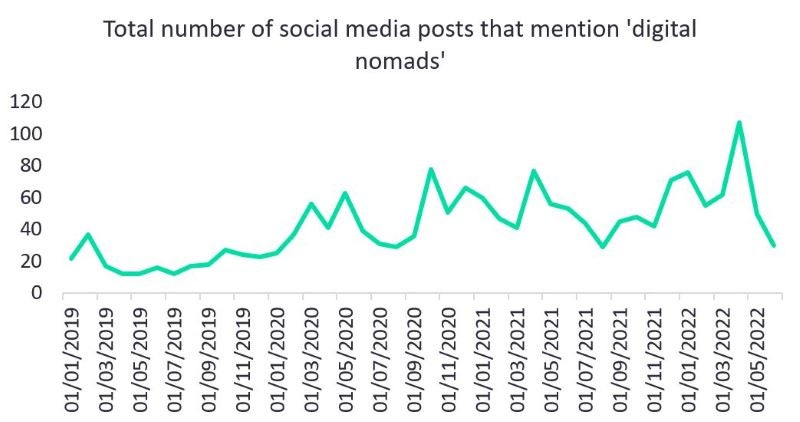 Digital nomads can bring significant benefits to tourist destinations and local economies, for instance, by providing local employment and encouraging cultural exchange. Digital nomads are typically regarded as high value travellers, spending more time and money in one destination. Furthermore, nomadic tourism can help destinations pivot away from the kind of mass tourism that defined it before the Covid-19 pandemic, which saw several destinations increasingly contend with problems such as seasonality, overtourism, cultural erosion, and environmental degradation.
Destinations and hotels need to adapt
Digital nomad destinations are often remote islands, boasting an idyllic workspace complete with sandy beaches and near year-round sunshine. However, remote island destinations may suffer regarding connecting travellers to the internet. Poor connection is a significant obstacle for digital nomads as the premise relies heavily on a strong and reliable internet connection. To reap the benefits from digital nomads, destinations should invest in technology and adequate infrastructure to ensure uptake on nomad visas and encourage long-term visits.
Hotel and accommodation facilities must also be adapted for these travellers. Medium-to-long-term holiday rentals will likely see an increase in demand as this tourist type will likely want to spend at least one month at a destination. Hotels and resorts can capitalise on this trend by promoting special offers and packages for those who want to work from an exotic location as well as purporting accessibility, amenities, and infrastructure features such as internet access. Bigger spaces and onsite services will also become a priority.
*GlobalData Poll – Live, 6,489 Responses (Extracted June 21, 2022)