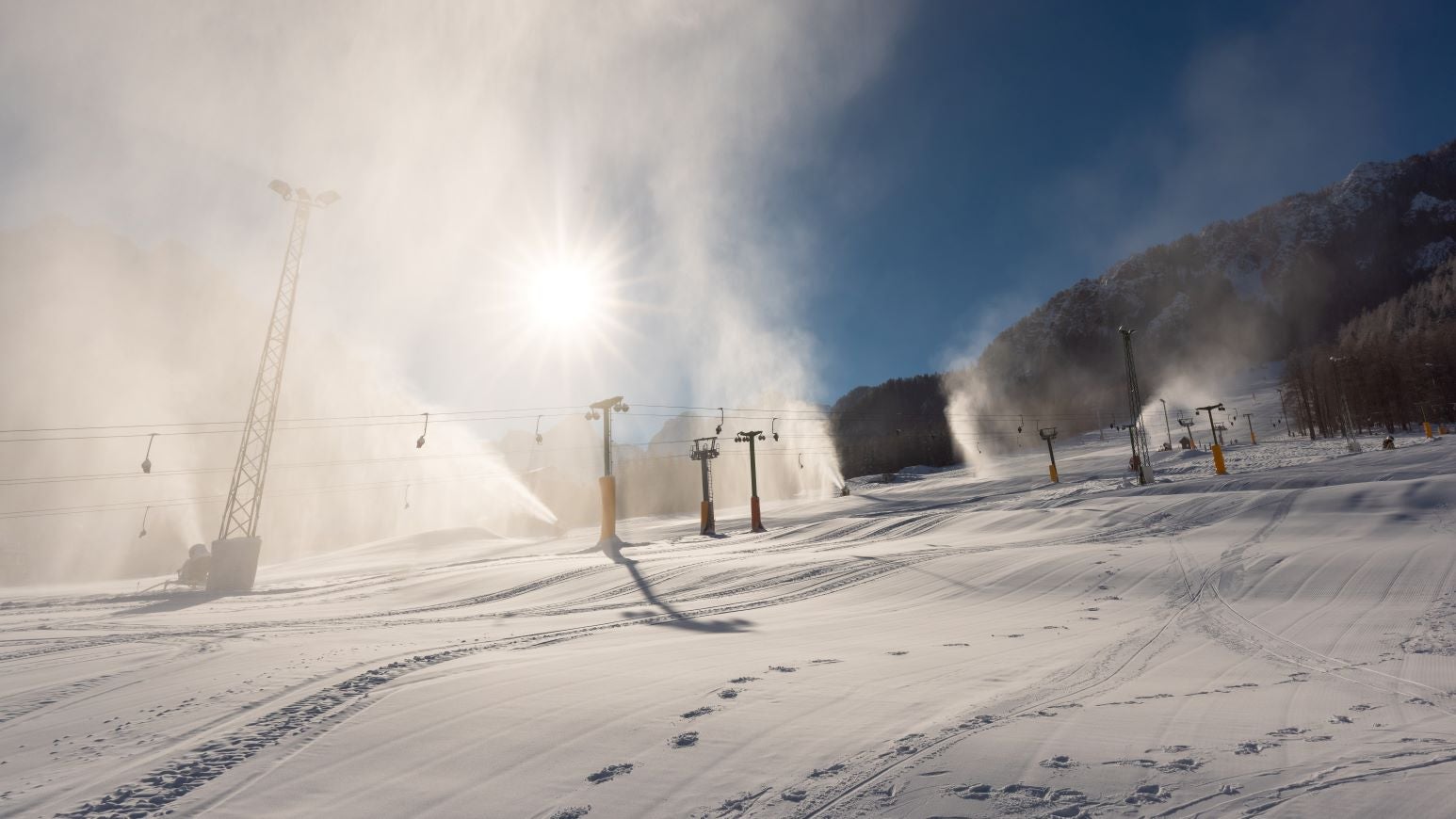 For skiers, snowboarders, and other winter sports enthusiasts, the Alps ranks as one of the most popular destinations in the world, thanks to its high altitudes and easy accessibility, spanning seven countries. However, for tourists planning a visit in early 2023, recent news of high temperatures has put a dampener on the 2022/2023 season.
Ski resorts rely on substantial snowfall in their winter season
Europe experienced some of the highest temperatures ever recorded in late December and early January, resulting in a lack of snowfall across much of the Alps. Ski resorts were forced to depend on artificial snow to stay open. Many reverted to offering warm-weather activities and some resorts even temporarily closed.
The threat of climate change to the industry is becoming more apparent every year. For example, temperatures in the French Alps  increased by 2°C over the 20th Century, higher than the 1.4°C increase seen in the rest of France, according to the Research Centre for Alpine Ecosystems.
Snowmaking allows ski resorts to remain open despite low snowfall
Without enough snow, tourists will be deterred from spending the large amount of money required for a winter sports holiday. Low snowfall impacts a ski resort's popularity and negatively impacts those in the area reliant on the ski tourism industry.
Ski resorts are avoiding this dilemma and maintaining the length of their winter seasons by producing artificial snow. Snowmaking machines such as snow guns and snow lances create artificial snow and have become a fixture in ski resorts across the Alps. Snowmaking machines create artificial snow by cooling compressed air and water to create small ice crystals and mist. The resulting mixture is then released, freezing to form snow.
Snowmaking comes at a heavy price
Snowmaking machines are hugely expensive because of the water they consume and the energy required. In terms of energy, operators may choose to operate these via non-renewable sources, generating global emissions and, in turn, contributing to the climate change crisis. Additionally, covering a slope will require the use of many machines. For example, Zermatt, one of the top destinations in the Alps, has over 1,200 snow cannons to cover a 140km of a slope. Given that Zermatt is one of the most resilient ski resorts, thanks to its altitude and reliable snowfall, resorts with lower resilience will require even more snowmaking machines to remain open throughout the season.
Secondly, snowmaking machines require huge volumes of water. For example, this 2019 report outlines that covering a ski slope approximately 1.6km in length requires up to 20,000m³ of water. However, this varies depending on the snowmaking machine used. For example, TechnoAlpin outlines that 1m³ of water can generate enough snow to cover 10,000m² of slopes at a 30cm depth. Water is often taken from local water sources, harming the local environment, for example by changing the quality of the soil, directly impacting the plants and animals that rely upon it.
Ski resorts should invest in more sustainable snowmaking machines
Snowmaking operations can be made more resource-efficient. The heat generated by machines could be used to heat buildings or melt snow in other areas of the resort, a method used by Stratton Mountain Resort in Vermont. Ski resorts can take advantage of their locations and invest in renewable energy sources, for example by implementing solar panels. Weather monitoring can also help resorts to deploy snowmaking machines smartly. For example, if it is too warm, then snow should be made at a lower temperature to help it to stick to the ground. Additionally, the compression technology inside snowmaking machines is improving, helping to reduce energy consumption. Manufacturers such as TechnoAlpin, SMI Snowmakers, and HKD Snowmakers all have machines using top-of-the-range, energy-efficient compression technologies.
Improving the energy efficiency of snowmaking machines will help ski resorts to reduce their emissions and contribution to global warming, and as climate change comes to the fore of the public eye, this could help to prove a ski resort's commitment to environmental, social and governance (ESG) values. However, ski resorts in the Alps should also prepare for worsening conditions over the coming decades. Even if global temperature rise is restricted to only 2°C, the Alps will lose 30% of their snow cover over the next ten to 30 years, when compared to 2017, according to a study by the Institute of Snow and Avalanche Research. Investing in the infrastructure and marketing of other activities in the Alps that are not reliant on snow, such as biking and hiking trails, will help to stabilise the tourism industries built there when the winter ski seasons inevitably shorten in length.