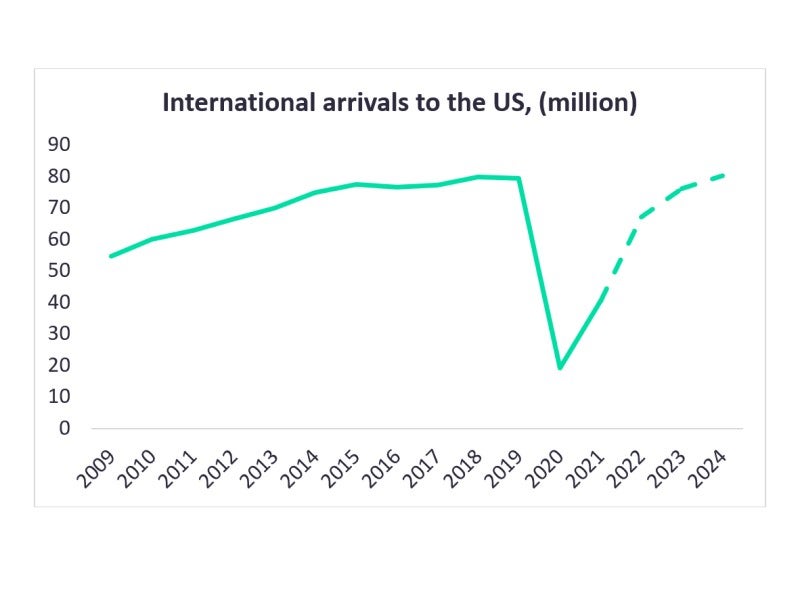 US destination marketing body, Brand USA, is to receive multi-million dollars in funding from the US Government to promote inbound travel in key markets. However, the industry faces ongoing uncertainties and challenges.
US tourism to see welcome uplift, following Covid-19 slump
Brand USA is to receive $250m in funding from the US Government to promote inbound travel in key markets. The grant, which falls under the Restoring Brand USA Act, marks an important milestone in the US travel and tourism industry's recovery following the country's opening to international travellers. As travel restrictions eased globally, the stream of funding will reportedly be used by Brand USA and its partners to rebuild traveller confidence, stimulate demand, and accelerate the return of international visitation and spending. Prior to Covid-19, the US was one of the most visited destinations globally, welcoming 79.4 million international arrivals in 2019, driven by vast natural, cultural and visitor attractions. Nevertheless, Covid-19 related travel restrictions saw international arrivals decline by 80.2% YoY to 7.8 million in 2020. Concurrently, inbound tourism spending declined by 76.5% YoY from $192.8bn in 2019 to $45.3bn in 2020, leaving a substantial gap across the country's tourism industry and many of its tourism-dependent businesses. Going forward, GlobalData forecasts expect international arrivals to return to pre-pandemic levels by 2024, with a projected 80.2 million international arrivals (CAGR 2022-24: 9.4%).
US tourism stagnating prior to Covid-19
Following a prolonged existential threat from Covid-19, the funding will undoubtedly help drive recovery. However, the pandemic inbound flows to the US were stagnating at a CAGR of 1.2% between 2016 and 2019. This was due to the lack of arrivals from many of its key source markets slowing or declining growth. These markets include Mexico (CAGR 2016-19: -1.5%), China (CAGR 2016-19: -2.5%) and Germany (CAGR 2016-19: 0.3%), which all ranked in the top ten source markets for the US in 2019. As such, any promotional activity will need to stimulate interest in the US's wealth of attractions and diverse array of tourist destinations.
Nevertheless, the timing of the additional funding comes as travel industry players hope for global travel to rebound in the summer, marking the start of international travel's earnest recovery. The US will face competition as countries and cities worldwide scramble to attract international arrivals and tourism spending. The city of London invested £7m ($9.2m) in a dedicated global tourism marketing campaign almost a month earlier. Meanwhile, the Tourism Authority of Thailand unveiled its own international tourism campaign as early as November 2021. With the US on the back foot, the country will face additional challenges attracting visitors.
A significant number of challenges still to contend with
While the multi-million-dollar funding will be a welcomed reprieve for an industry that has endured the prolonged absence of international tourists, the tourism industry still faces a barrage of additional challenges to contend with. This includes the conflict between Russia and Ukraine, bringing a new cloud of uncertainty for travel, staff shortages exacerbated by Covid-19 and rising costs of living. A promotional campaign that showcases the US as a safe and exciting destination as a means to rebuild traveller confidence and stimulate demand is necessary to ensure a smooth recovery and minimise further disruption to tourism and hospitality businesses across the US.