TOMRA Compaction is a world leader in compaction and baling solutions for recyclable materials at source. The features and benefits of our omprehensive range of waste compactors and balers more than meet the challenges presented by the hotel and catering industries.
Our compaction and baling solutions for recycling and disposal improve business efficiency, add to a cleaner working and natural environment and provide economical waste handling. More into less, purpose into progress, TOMRA transforms the way the world obtains, uses and reuses its resources.
Waste compactors and baling solutions
We are promoting environmental care and there are several good reasons to invest in our compaction and baling solutions:
Time: naturally, there is much less handling in the workplace involved with high-density waste compared with widespread loose waste. No time-consuming manual cutting or folding of boxes is required when using TOMRA Compaction's balers and our automatic waste bin can significantly reduce the bag-switching-frequency in your café or restaurant. With our waste handling solutions your staff can spend less time on waste management and concentrate more on core business.
Space: compacted waste requires much less storage space than piles of loose waste. Let us help you put your storage space to better use.
Profit: less waste to transport contributes to lower transportation costs, reduced CO2 emissions and an overall more profitable waste management.
Hygiene: TOMRA Compaction's balers assist you in keeping the storage floor free from empty packaging material. Our waste compactors compact dry to semi-wet waste from the restaurant and kitchen hygienically in plastic bags. Our automatic waste bin keeps the seating area looking inviting and motivates guests to keep the area clean.
Automatic waste bin for public environments
Orwak 1030 – the unique automatic waste bin – is perfect for cafés, fast food restaurants and other public environments. Due to efficient compaction, it can hold up to seven times more waste than a traditional waste receptacle before it is necessary to switch bags. Less time spent on waste handling means more time devoted to customers. Orwak 1030 is equipped with an automatic touch-free shutter and a full bag indicator.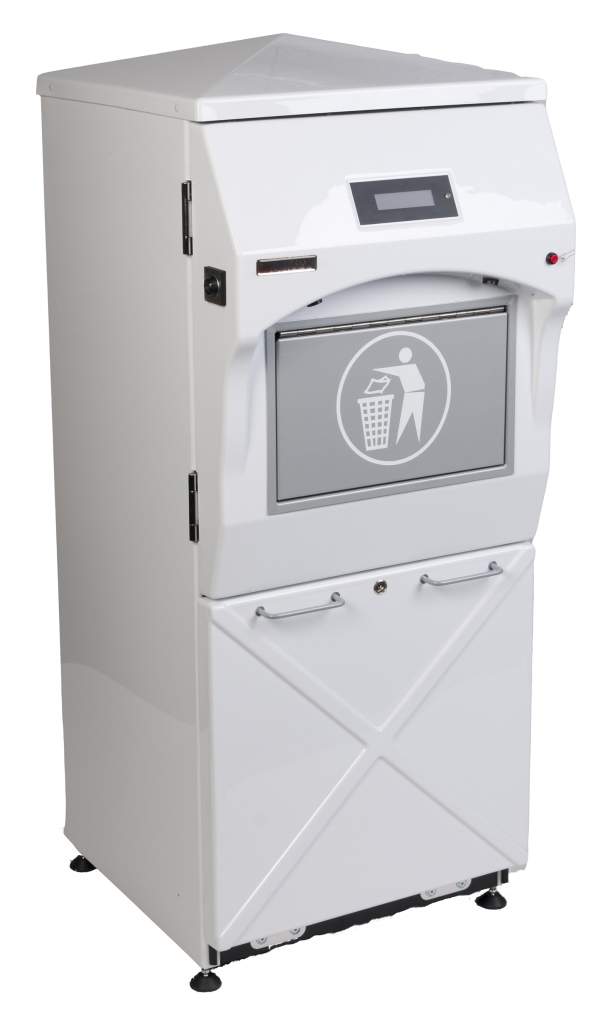 The automatic waste bin model 1030 is perfect for installation in cafés, canteens, fast food restaurants and other public environments.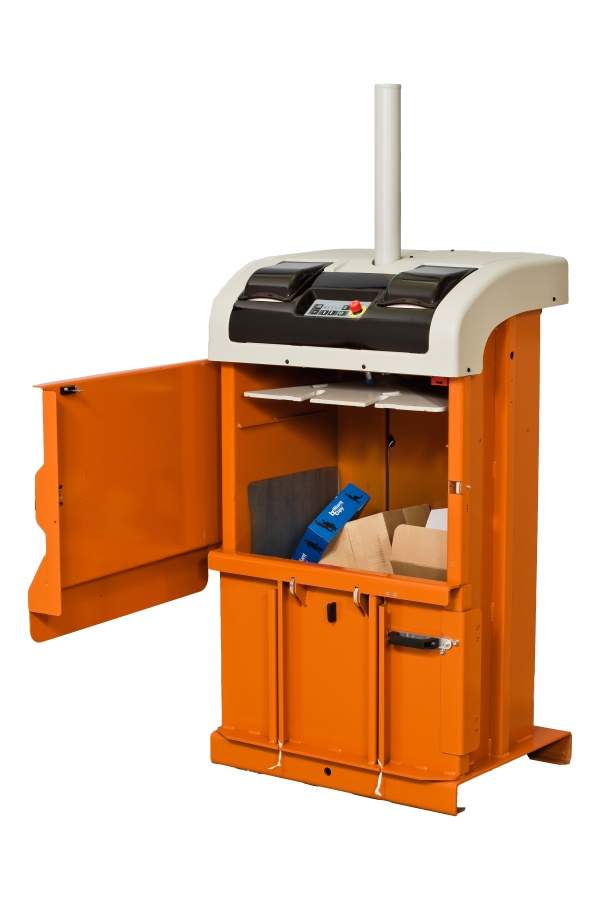 Cardboard and plastic balers with a convenient small footprint.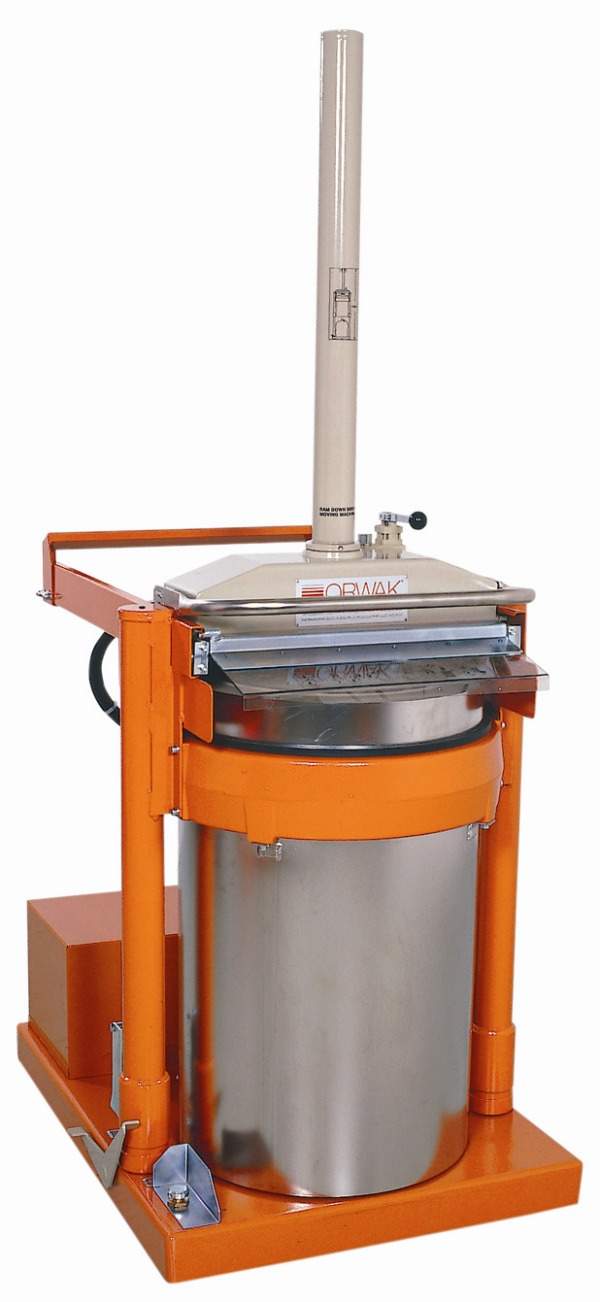 The top-loaded waste compactor Orwak 5030 offers volume reduction of up to 10:1.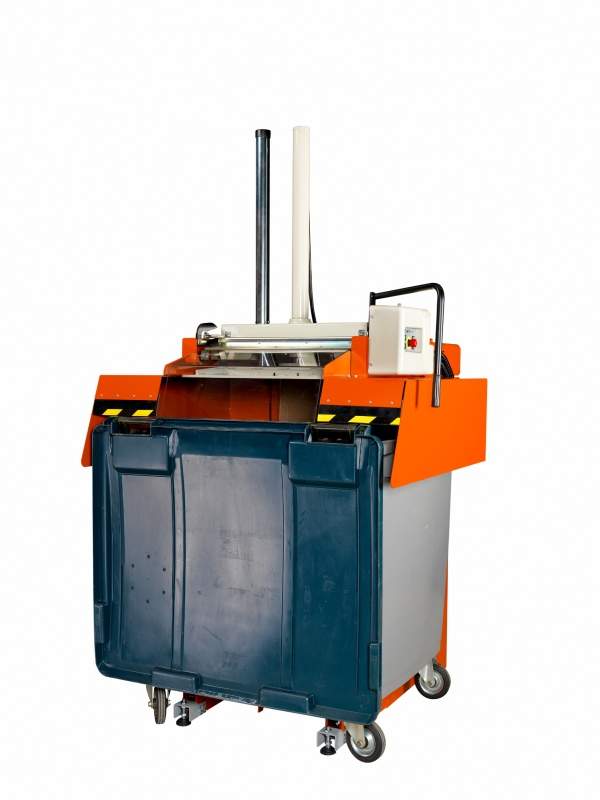 Model 4110 compacts bagged waste in four-wheeled-bins.
This combined in-bin compactor and baler allows for compaction of mixed and recyclable waste in the same machine.
Compact front-loaded balers for cardboard and plastic
Model 3105, 3110 and 3115 are our smallest front-loaded balers. The low height in combination with their small footprint make them fit where you need them to be. Balers are equipped with auto start and a material selector as standard features. They are perfect for both cardboard boxes and plastic film. Bale weight: cardboard 40kg-60kg, plastic 50kg-80kg.
In-bag-waste waste compactor
Orwak 5030 is our classic waste compactor for effective and hygienic compaction of waste in plastic bags. Compaction into bags avoids spills and odour and volume reduction can be up to 10:1. A stainless drum protects the bag during the compaction.
Waste compactors for wheelie bins
Model 4110 is a top-loaded waste compactor for compaction of dry to semi-wet bagged waste in four-wheeled-bins with a volume up to 1,100 litres. The compactor is safe and easy to operate and a special lifting device protects a bin's wheels from pressure during compaction.
Combined balers and in-bin waste compactors
Orwak 5070-Combi is a combined extendable in-bin compactor and baler, which enables mixed waste and recyclable materials to be handled in one machine. Dry to semi-wet bagged waste is compacted in bins of up to 1,100 litres in one chamber of the machine. In the other chamber(s) recyclable material such as cardboard and plastic are compacted into bales. Bale weight: cardboard 50kg, plastic 80kg.