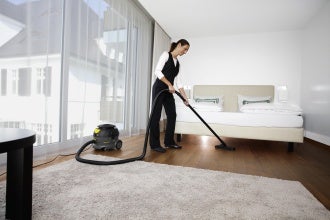 Kärcher's five newly-launched eco!efficiency dry vacuum cleaners form a complete product line of resource-saving models, from entry-level to high-end.
The product line includes:
T 7/1 eco!efficiency
T 10/1 eco!efficiency
T 12/1 eco!efficiency
T 15/1 eco!efficiency
T 17/1 eco!efficiency
The new cleaners require just 750W of power, have improved flow properties and they use 40% less energy than vacuum cleaners with the equivalent cleaning power. Their low noise level makes them ideally suited for volume-sensitive applications and the handy plug-in mains cable can simply be exchanged if damaged, saving time and service costs.
As well as the hotel and hospitality industry, this vacuum cleaner series will also be of interest to cleaning contractors, who are increasingly required to share the energy costs incurred during property cleaning. Alternatively, it will enable them to offer the benefit of energy savings when submitting bids. eco!efficiency cleaners can also be used in hotels or health care establishments, such as old people's homes, as they can be used with a minimum of noise during the early morning shift. The slight increase in purchase price compared with their sister models in the Kärcher basic series is recouped after just two and a half months, through energy savings.
Container sizes of between 7l and 17l permit medium to long work intervals, depending on requirements. The vacuum cleaners are equipped with a tear-proof fleece filter bag with more than double the dust capacity of a paper filter. The washable permanent main filter is made of highly dense fleece material, which also permits vacuuming without a dust bag, making operation of the eco!efficiency models even more cost-effective.