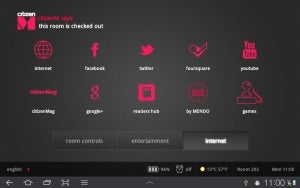 citizenM London Bankside has introduced online games as part of its continuously expanding, free service offering to its guests. Through its highly acclaimed guest room tablet, the hotel now proposes two widely popular Miniclip games in addition to offering free access to the internet, blockbuster movies, books and Web apps. The citizenM room tablet has been custom-designed by Swisscom Hospitality to increase guest engagement and interactivity.
Since the opening of the London Bankside hotel in July 2012, the citizenM room tablet has been a major contributor to the hotel's unique guest experience, as thousands of guest reviews on Tripadvisor.com, facebook and other social media channels have evidenced. The tablet brings all room functions as well as a vast array of entertainment and communication options into a single, hotel branded user interface. Now, as of 1 April, it also includes access to two innovative online games from Miniclip. The pilot will run for a period of six months.
"We have built a flexible Internet-based service platform for citizenM, allowing them to easily add new services and applications when it makes sense to do so."
Miniclip's games applications are known for their high-quality graphics and their fun gameplay. With IStunt 2 and Fragger, two of their most widely shared games have been selected to complement the Internet content served through citizenM's room tablet. Fragger is a fun shoot 'em up and puzzle game that has had more than 22 million downloads in just over two years. IStunt 2, an award winner with Pocket Gamer, and with over 10 million downloads to date, is a fun and interactive snowboard game with stunning graphics that bring excitement to its players.
Michael Levie, co-founder and COO of citizenM hotel group, says: "The enormous popularity of online games has yet to be well-served by the hospitality industry; most of what I see today is the addition of low-quality games on top of average TV systems but citizenM doesn't do low quality, nor average. I am grateful to Miniclip and Swisscom for helping us pilot this, and integrate it with our in-room offering. I have played the two games and they are great fun; we will see how well they are accepted by our guests and look forward to rolling this out further."
"This move is the latest in a series of service innovations resulting from our close cooperation with citizenM," comments Simon I'Anson, vice president marketing for Swisscom Hospitality Services. "We have built a flexible Internet-based service platform for citizenM, allowing them to easily add new services and applications when it makes sense to do so. This flexibility underlines citizenM's service leadership and clearly contributes to its sustainable differentiation within its competitive set."