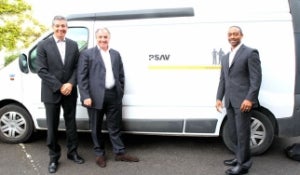 With demand on the rise for audiovisual services in the Paris, Nice and Monaco hotel and conference centre market, PSAV® Presentation Services has recently opened a new branch office and equipment warehouse at 12 rue de l'Ecluse, 94140 Alfortville, France.
Together with facilities in London and Munich, the 400m² facility will serve as a hub for all European global sales events whereby all event technology equipment, including video projectors, screens, and sonorisation or sound systems, will be stored.
PSAV is a global supplier of audiovisual services and event technologies to decision makers responsible for organising meetings, conferences and events worldwide. The work of the company's multinational team spans the globe, delivering the best in video and projection, lighting, set design and construction, sound, staging, event IT support, rigging, power testing, high-definition event videoconferencing, and webcasting.
"With nearly 30,000 events produced by PSAV each year and growing across Europe, we needed to add a branch office and warehouse that could support such demand," said Yannis Koutagias, PSAV regional director of operations for Central Europe. "This new facility is quite beneficial to all hotels and conference centres in the region. With meetings business on the rise – especially
from US-based companies bringing meetings and incentives to Europe – we needed to make equipment inventory more readily accessible. The Alfortville branch office gives us the physical space we need today with room to grow in the future."
The new facility is allowing the event technology company to expand its services from providing on-site storage, in which AV equipment is stored at the hotel and managed by a team of location-based technicians, to offering a "drop-off" service, whereby PSAV rents equipment and provides event technology expertise to the host facility on an as-needed basis.
"For more than 40 years, PSAV has built a reputation for supplying the very best in event technology and up-to-the-minute resources, supporting client meetings, corporate conferences and events not only across Europe, but worldwide," Koutagias said. "Whether event planners need minimal equipment to support a gathering for a few colleagues at a hotel in Paris, or a multiscreen, multi-media large-scale conference in Monaco, PSAV has what it takes to make any event more engaging, more memorable, and ultimately, more meaningful."
Venues and environments have a profound influence over personal experience, including emotions and behaviour.Physical environments...