Limber Way offers an easy-to-implement, fast and simple chatting service for hotels.
Our Hotelway platform is designed to facilitate guest communication and enhance their experience by enabling staff to answer short questions and address small requests.
Guest communication solutions for the hospitality industry
The easiest way for a guest to interact with a hotel is to do it directly from their phone or laptop via a simple chat function.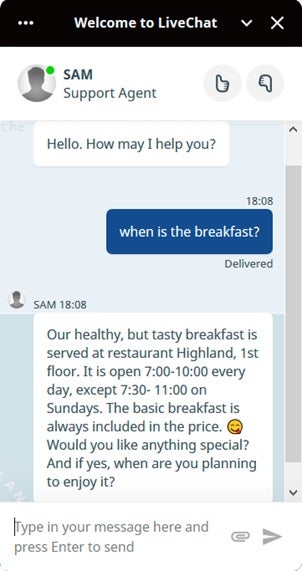 Hotelway provides a fast and easy-to-implement chat tool for hotels.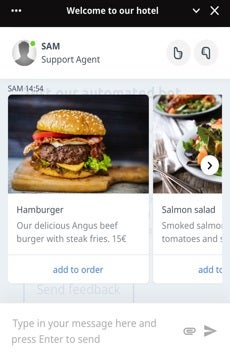 Guests can place orders via the Hotelway platform, which will alert the hotel staff.
The web-based capabilities allow guests to place advance orders on a mobile device out of the hotel.
Simple questions can be answered quickly and accurately.
An effective chat-enabled service can increase direct bookings by 35%, enhance guest satisfaction and brand value, and lead to positive reviews on social media.
Hotelway also offers a custom-designed artificial intelligence (AI) based bot to answer simple inquiries so hotel personnel can be available to address more complex questions or requests.
Our communication dashboard enables you to manage multiple conversations, whether it is a chat, Facebook Messenger or other media from a laptop or mobile phone. We can also offer a hybrid model so hotel staff can manage conversations and provide support.
Hotel communication systems
When guests want to order something from room service, they should be directed easily to a facility designed to give simple and accurate information and means to order them.
Limber Way's web-based hospitality platform effectively manage guest orders in an efficient way. Once the order is received, it also can alert the staff with a mobile application so they can hear and respond to it.
Guests can also order room service while visiting the pool or city via an internet-enabled device.
When we integrate your property management system (PMS) with our platform, you can even send text messages to your guests' phones to promote room service, Happy Hour or late checkout. The guests can then reply directly to the message or talk more via chat through a single platform.
The Hotelway platform allows us to provide special promotion codes to reward guests, as well as drive them to make their reservations directly from your booking engine.
Our pre-designed bot conversation structures also help encourage additional purchases such as guest room upgrades.
Engagement rate and web traffic statistics
Limber Way can provide you with monthly reports regarding your website traffic, which includes engagement rates.
We will analyse all conversations that occurred, what were the most common topics and questions raised by guests, and identify possible issues in your service that need improving.
Professional guest support
Limber Way has a team of Guest Care specialists that aim to answer complex enquiries within 30 seconds.
Our experienced personnel are trained to offer a multilingual management service.
Limber Way has also designed a state-of-the-art onboarding model, where members of our Guest Care Team spend a night in your hotel and interview staff according to a specific structure. This comprehensive model ensures that the guests will be served as well as if they are in your hotel, but significantly faster.