Atomize is an innovative automatic revenue management system for the hospitality sector.
The system is already used in more than 20 countries across five continents by hotels of all sizes, making Atomize a leading supplier of automatic revenue management software.
Hoteltechreport.com ranked Atomize as the number one revenue management software for hotels in 2019.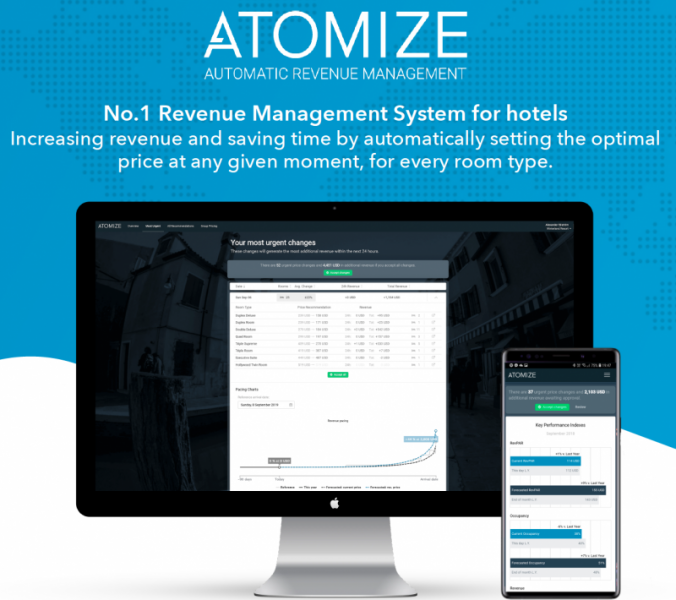 Atomize's Revenue Management System automatically sets the optimal hotel room price.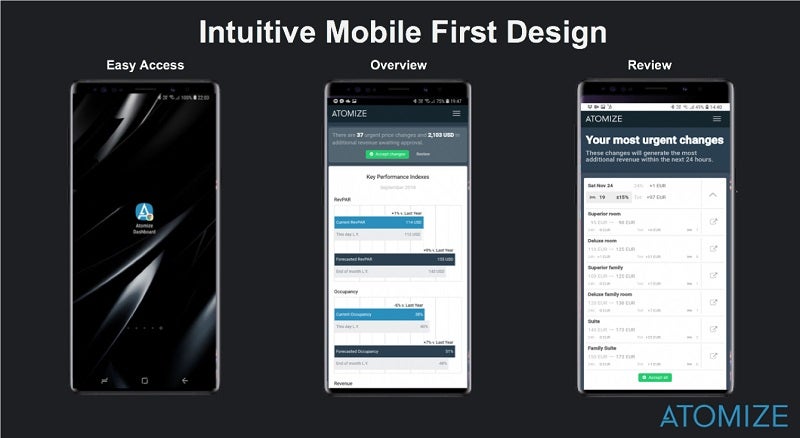 Atomize's platform is compatible with desktop computers and mobile devices.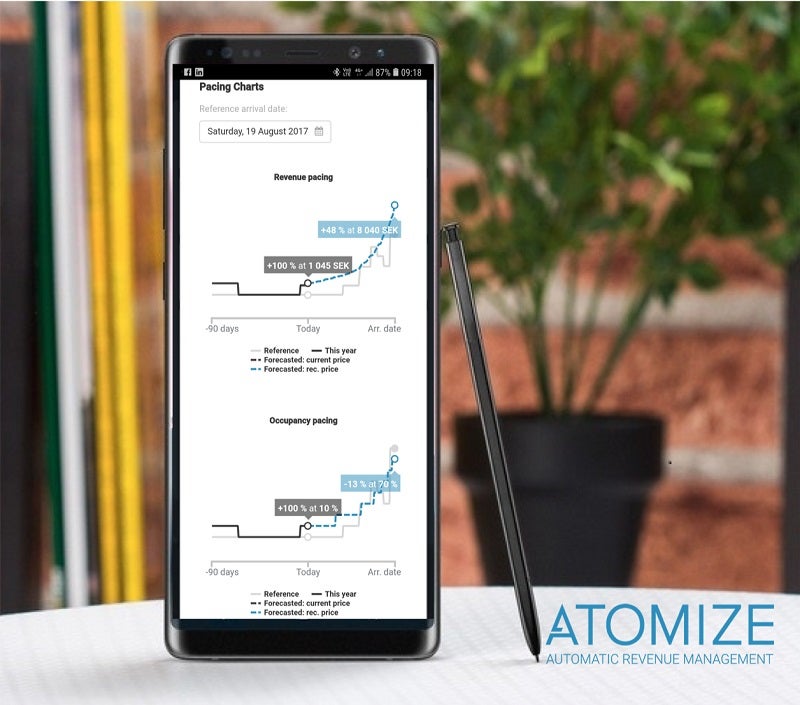 The solution offers price recommendations according to competitors, regional demand and historical performance.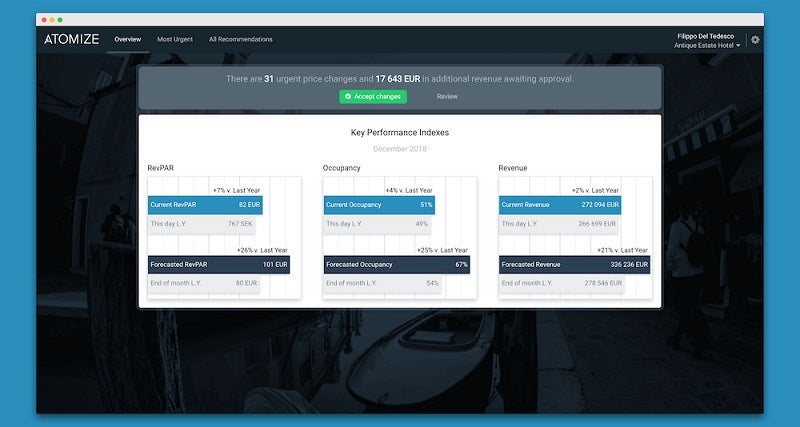 We help hotels optimise revenue per available room.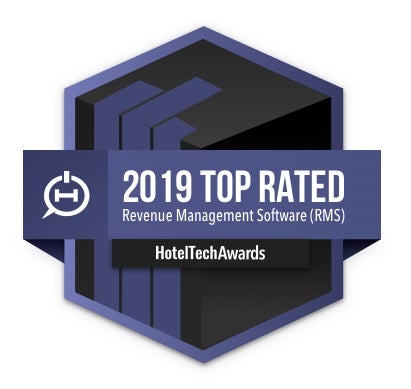 In 2019, Atomize was named by Hoteltechreport.com as the top rated revenue management software for hotels.
Revenue management platforms for hotels
Atomize helps hotels worldwide to increase revenues per available room (RevPAR).
The system automatically sets suitable prices according to room type, which enhances time efficiency. This is achieved by gathering data from multiple sources and proprietary machine learning algorithms subsequently decide the optimal price.
Price data and revenue optimisation capabilities
Atomize finds growth opportunities in your hotel and predicts what price changes should be implemented to increase revenues. It can also be used to optimise price data in real-time.
Each suggestion can be rejected, revised or accepted individually. Accepted actions will be applied automatically to your property management system (PMS) and once you trust Atomize's price recommendations fully, you can automate your functions.
Case studies have shown that Atomize's solution has led to a rise in RevPAR that ranges between 5% and 17%.
Price recommendation capabilities
Atomize considers a number of factors when providing price recommendations.
These include:
Historical data and performance: data such as reservations and group allocations are collected from your PMS to reveal booking pace, cancellation rates, trends and more
Competitors: Atomize continuously monitors your chosen competitors for price and room availability changes
Search patterns and non-bookings: we analyse data from online booking engines such as unique searches and non-booking that typically reveal indicators for future demand
Local holidays: the system automatically considers regional holidays and typical demand for a country
Price hierarchy between room types: we dynamically and independently price room types, but Atomize retains any price hierarchy rules in-place
Price fluctuations on adjacent days: when we recommend a price change for a specific date, Atomize also consider the effect it has on the days before and after
Previous projects
Best Western Borås (BW Borås) started using Atomize at the end of 2017 and in Q1 2018 their RevPAR increased with 16.9%.
The increase in RevPAR is adjusted for seasonality and considers the market trend of the city and the number of rooms that were out of order. Hence, it is a true increase that can directly be attributed to the effect of using Atomize.
Read the case study by clicking here.
Start maximising your room revenue today, contact Atomize for a demo.