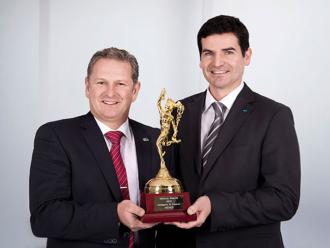 When it comes to providing catering services to passengers, the standards set by airlines, rail operators and shipping companies are extremely high.
To acknowledge these efforts, the International Travel Catering Association (ITCA), which represents the interests of companies in the industry, presents its highly-prized Mercury Awards every two years. Widely regarded as an important distinction, the Mercury Awards serve to identify the strongest partners in the travel catering industry.
This year's prize in the Heavy Equipment category went to the German dishwasher manufacturer MEIKO. The Offenburg, Germany-based company received the award for its latest generation of M-iQ flight and rack-type dishwashing machines, which are used at major airports all over the world.
MEIKO's head of exports Klaus Engesser, clearly delighted with the news, said: "This prize is a clear acknowledgement of our innovation leadership. It celebrates the close cooperation between MEIKO and its customers."
Together with Eric Waag, key account manager at MEIKO in the Inflight Catering department, Engesser accepted the prize in Abu Dhabi in late November 2013. The awards ceremony was held at the Shangri La Hotel as part of the ITCA gala event.
The golden statuette of the Roman god, Mercury, was presented to MEIKO by Tomas Jamtander from Addis International Catering, before setting out on its journey back to MEIKO's headquarters in Offenburg, Germany.
This is the second time that MEIKO has won a trophy at the Mercury Awards, which are presented in a total of six categories.
"We also see this award as a confirmation that we are offering exactly what our customers need, from the M-iQ machines' energy concept, which makes efficient use of thermal energy in the cleaning process, to our tremendously high hygiene standards and our new filter system that uses just a fraction of the fresh water required by older systems," Engesser added.
The jurors were particularly impressed by a number of features, including the smart, user-friendly design of the human-machine interface with its hygienic touchscreen and components clearly marked in blue that make it even easier to operate the machine.
When it first embarked on its search for candidates for this year's Mercury Awards, the ITCA clearly stated that it was looking for clear examples of excellence among its industry partners. MEIKO ticked all the right boxes thanks to its outstanding achievements in the fields of innovation, creativity, quality, reliability, cost efficiency and customer satisfaction.
"We're proud to be among the best partners in the eyes of the International Travel Catering Association. We see this award both as an honour and as an incentive to continue producing excellent results," Engesser said.
---
Image: MEIKO accepted the award for the Heavy Equipment category at the ITCA ceremony in Abu Dhabi. Photo: courtesy of MEIKO.