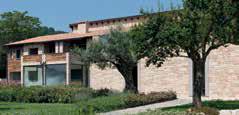 Biopietra® is the star of a farm holiday project in the hills of Caserta.
The architect: "It's organic, customisable. It has the charm of natural stone."
The Biopietra® products in the collection are ideal for faithfully reproducing the local tradition of stone wall, restoring traditions and historical significance that should not be lost.
Witness to this opportunity is the restoration project by the architect Alfredo Galdi, concerning an area of about 75,000 square meters on the hills of Caserta (CE), destined to become the terrain of typical local cultures and the site of a new country house with a dual nature: agriculture and tourism. The union between the two products is well matched by the start-up of a production of local wines (Pallagrello and Casavecchia) in a territory – the hinterland of Campania – that is the perfect destination for farm holidays.
Mr. Galdi, how did the project begin?
"The project was inspired by old country estates in the area, where the atmosphere is the right blend of tradition and the history of peasant culture and today's technologies. All this has resulted in the combined use of traditional materials such as stone, wood, clay and modern materials like steel and even bio stone."
The use of bio stone cladding is at the centre of this project, because it has recuperation of traditional values without giving up biocompatible construction, aesthetically beautiful, that brings to life the history of a territory, respecting the health of man and his environment.
Why did you chose Biopietra®?
"It is very similar to natural stone and in installation it does not give the feeling of 'false', unlike other products. Plus it's a completely bio stone product, with a good price/quality relationship. The ability to customise the colour satisfied the customer who saw his own needs being met."
But mostly because Biopietra is certified and breathable. The high breathability of the outer cladding and certification that Biopietra contains no Radon meant I was able to make a healthy building in line with the principles of green construction.