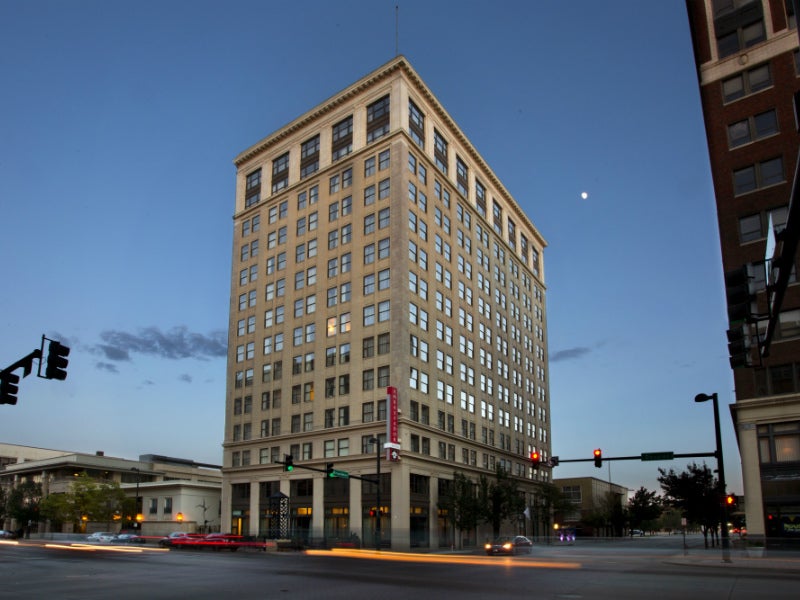 Hotel Internet Services (HIS) has announced the successful implementation of BeyondTV equipped with the latest in voice control and virtual assistant abilities at the Ambassador Hotel Wichita, Autograph Collection.
Combining classic style and contemporary design using Chicago-inspired architecture, Ambassador Hotel Wichita seeks to provide its guests with stylish elegance along with a uniquely tailored experience that is facilitated with the presence of BeyondTV and its voice-enabled features. Using HIS industry expertise to also enhance its Wi-Fi service, guests staying at Ambassador Hotel Wichita can further expect to find a seamless connectivity experience when using BeyondTV services or when attempting to connect personal devices to the internet.
Through an integration with Amazon's Alexa and Volara, a leader in voice-based solutions for the hospitality industry, BeyondTV provides Ambassador Hotel Wichita guests with the enhanced convenience of complete voice control over guestroom televisions, allowing guests to change channels, access the programme guide and turn TVs on or off without having to locate the remote. BeyondTV's advanced virtual assistant abilities also allow guests to instantly locate information on available hotel services and make requests without having to pick up a phone or leave the room. By simply using a voice command, guests can effortlessly request housekeeping, room service, valet parking and can check out instantly in addition to an array of other services available via BeyondTV's virtual assistant functionality. Using BeyondTV's integration with guestroom televisions or Amazon's Alexa, Ambassador Hotel Wichita can further actively promote available amenities and promotions to guests in order to ensure that they are aware of such services while increasing opportunities for additional revenue.
"Today's guests are increasingly expecting instant personalisation and maximised convenience from the moment that they arrive, and solutions such as BeyondTV are equipping hoteliers with the tools they need to fully address this growing demand while at the same time enhancing operational efficiency," says Daniel Cornelius, general manager at the Ambassador Hotel Wichita. "By partnering with HIS, we have been able to place guests in complete control over their hotel stay experience in order to ensure that each can obtain full satisfaction based on unique preferences. With BeyondTV's casting abilities and HIS' expertise in Wi-Fi connectivity, we are also able to fully recreate a fast, tailorable and easily accessible online environment that guests have grown accustomed to when at home."
As a comprehensive entertainment solution, BeyondTV also provides each guest with the ability to stream personal content from their devices onto guestroom televisions without first needing to input sensitive login information. Leveraging its patented data privacy technology, BeyondTV further leads the industry in safeguarding guest information with features that include automatically erasing all usage data upon check-out. Guests are also able to delete their personal data at any time during their stay with a push of a remote control button.
By upgrading Ambassador Hotel Wichita's guest Wi-Fi service using the latest in Ruckus technology, HIS has further ensured that each guest can connect multiple devices to the internet and can expect a fast and seamless online experience. With Ruckus access points strategically placed throughout the property, guests staying at Ambassador Hotel Wichita can look forward to a strong and consistent Wi-Fi signal regardless of where they are located on-site.
For more information about the full range of technology solutions available from Hotel Internet Services, please fill out the enquiry form on this page.