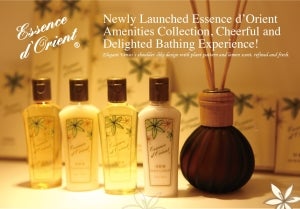 Ming Fai has launched Essence d'Orient, a new luxury bathing brand for hotels.
Essence d'Orient hotel amenities is rich in olive oil, carrageenan, aloe vera, hydrolysed wheat protein, hydrolysed wheat starch, vitamin E and other essence ingredients. The mild formulation with the light scent of lemon verbena, coupled with the shaped bottle design represents the uniqueness of Essence d'Orient for its tradition and wisdom.
Nourishing and fragrant, Baronessa Cali skin and body cosmetics merge ancient homemade recipes with high-quality...