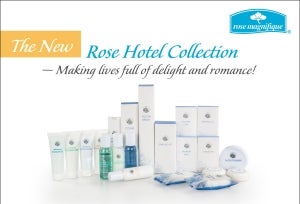 Ming Fai has launched the Rose Hotel Collection, a new range of luxury bathing products and amenities for the hotel industry.
Inspired by the romantic culture of France, making lives full of delight and romance has always been the goal of the Rose Hotel Collection. Fresh, clean citrus and herbal scents mixed with an ocean aroma let you relax your mind and soul. The formulation is blended with various extracted essences, such as vitamin E, aloe vera, hydrolysed wheat protein and carrageen to give your skin full nourishment.
Rose Magnifique takes your needs into consideration from bottle design to the formulation, providing a unique and an enjoyable bathing sensation.
Nourishing and fragrant, Baronessa Cali skin and body cosmetics merge ancient homemade recipes with high-quality...