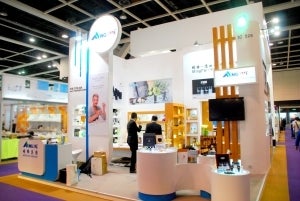 The region's leading food and hospitality tradeshow returned on May 7th, 2013 at the Hong Kong Convention and Exhibition Centre. In its 15th edition, HOFEX 2013 continued to blend the best of food and beverages, equipment, supplies, services and hospitality technologies, attracting more than 30,000 purchasers.
Ming Fai Group exhibited at HOFEX with a whole new image, aiming to bring a different experience to visitors. Recently, Ming Fai Group has become the hot topic in the industry due to its transformation to one-stop solution provider with our new slogan "Your Total Solution". Media outlets, including Asia Spa and Asian Hotel & Catering Times, were keen to cover Ming Fai's news and to interview the management of Ming Fai Group.
It was noticeable to visitors that Ming Fai's product line was much more diversified this time. In order to let our visitors experience Ming Fai's one-stop solution service concept, our booth was designed like a high-end hotel room with various hotel amenity products. Providing a one-stop solution has always been Ming Fai's development goal.
We've constantly consolidated our product resources and adjusted our operation strategy to provide our customers with bath and body care products, hotel amenity products, operating supplies and equipment, bedding and linen products, etc.
Meanwhile, Ming Fai continues to expand our brand portfolio to provide customers with more brand selection. Our newest licensed brand includes STORM from London, UK, with a simple and smooth bottle design blended with a unique formulation, and CULTI from Italy, which represent an exquisite lifestyle with a luxury and low-profile brand image to bring the utmost sensation to visitors.
Throughout the exhibition, Ming Fai Group thrived in showing our corporate image to the world. In recent years, Ming Fai realised that providing one-stop solution to hotel purchasers is the key element in Ming Fai's development. Thus, we try our best and seek to inform more people about learn our service concept through the exhibition, and to gain more confidence through positive feedbacks from visitors.
On May 10th, the four-day exhibition period came to an end, but to Ming Fai, it's just a rehearsal. Through optimised and consolidated resources, upgraded service quality and better products to service our customers, Ming Fai will step up to a larger scale to provide better quality and services to our customers.
Nourishing and fragrant, Baronessa Cali skin and body cosmetics merge ancient homemade recipes with high-quality...