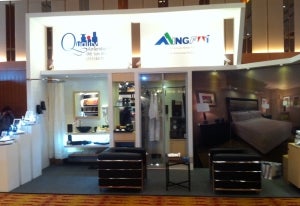 Ming Fai Group took part in the 12th Malaysian International Exhibition of Food, Drinks, Hotel, Restaurant & Foodservice Equipment, Supplies, Services & Related Technology (hereinafter referred to as FHM) which was held in Kuala Lumpur Convention Centre, Malaysia on September 17th to 20th, 2013.
Since 2004, Ming Fai Group had been optimistic about the market growth of Southeast Asia, and has established branch offices in Singapore and Malaysia to expand direct marketing and distribution network to Asia-Pacific region. Nowadays, tourism plays a vital role in the economic development in Malaysia, increasingly promoting demand of hotel industry and providing favorable condition for the prosperity of hotel industry. As the biggest and most professional international food & hotel exhibition in Malaysia, FHM got full support from the government of Malaysia and presents future growth of hotel industry in the region.
Ming Fai Group has internally re-adjusted its business structure after the strategic alliance with American Hotel Register Company. Ming Fai Group has some obvious changes including licensing international brands such as Aquascutum and STORM, and the 'Total Solution' concept booth fully showed our strength with warm responses. Ming Fai Group is constructing the 'Total Solution' concept showroom which is around 10,000 square meters and will be completed by the end of 2013. Ming Fai Group is dedicated in proving the total solution service and expands its product lineup throughout the whole operation of hotel including restaurant & foodservice equipments, kitchen appliances, furniture & fixtures, guest room electric appliances, guest room amenities, lobby appliances, cleansing tools, fitness equipments, washing utensils and much more.
Ming Fai Group has gained top attention with consistent quality assurance in big exhibitions and events no matter whether it's in Shanghai, Guangzhou, Hong Kong, India, Singapore and Malaysia, Ming Fai Group has been leading the hotel trend and has made a legend in the hotel industry!
Nourishing and fragrant, Baronessa Cali skin and body cosmetics merge ancient homemade recipes with high-quality...