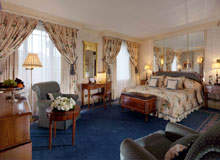 Peak performance – it's the ultimate goal in business, just as winning a gold medal is the ultimate in Olympic competition. During the 29th Summer Olympics in Beijing, more than 10,000 athletes combined their physical strength and mental prowess to be stronger, faster, and more accurate.
But regular people who toil and deliver excellence during the business year deserve their own gold medals. Consider the hospitality industry.
"Peak performance – it's the ultimate goal in business."
It never shuts down; not on Sundays, holidays or when someone sprains an ankle. Every time a guest walks through the door of a hotel, they expect to receive service of Olympic proportions.
If you expect to survive in this hypercompetitive marketplace – let alone win – you need a team that consistently achieves peak performance.
Beginning the climb to excellence
On 21 June 2004, Christopher Cowdray became the general manager of The Dorchester. In his first days on the property, he asked the employees' NEWS; their Needs, Expectations, Wants, and Suggestions.
A week later, my staff and I at Ference Leadership and Strategy, and the Center for Survey Research were engaged to design, deliver, and administer an employee engagement and satisfaction survey.
The overall score for the hotel was 74.3% positive or average by category. Yet gap analysis revealed a data spread of 57 points.
Some feedback reached 96% positive while other issues were at the 40th percentile. There was a long road ahead before the hotel reached excellence.
The team's initial steps
Like running an Olympic marathon, achieving peak performance and excellence is a mentally challenging process. The Dorchester's executives realised that managers needed to empower staff to think and work independently in making timely guest decisions.
But at the same time, they wanted everyone to work as a team in setting goals, coordinating actions and following up results. Employee survey results were used to create action plans including initiatives, action steps, benchmarks for success, required resources and accountabilities.
Three steps formed the approach to achieving excellence.
Step one: gaining individual ownership
Just as Olympic gymnasts own their award-winning plans for physical training, so too did The Dorchester's employees establish action plans that, although they were orchestrated by department heads, each individual owned. Each action plan established goals and objectives to which department heads and employees agreed.
Step two: developing teamwork and group action plans
Whether in synchronised swimming or track relays, teamwork is the key to winning. At The Dorchester too, the focus needed to be on working together. In 2004 a disappointing 65.9% believed that teamwork was functioning well within the hotel.
By 2007 it had risen by 20 points to a score of 85.3%. All hotel departments agree that improved teamwork throughout the hotel would not have been possible without commitment to team action plans based on employee survey results.
Step three: ensuring follow-up
A final step for achieving peak performance is to ensure the continuous and systematic follow-up of all action plans. For The Dorchester, action planning was included in operational meetings, on-site workshops, off-site retreats, and one-on-one and group coaching sessions.
The team continually asked:
To what extent does each staff member understand and walk the talk with our vision, mission, and core values? How do we know?

To what extent are our systems, processes, and standards providing a seamless experience for our guests? How do we know?

To what extent is our leadership team strong, dynamic and an exemplary role model? How do we know?
Hospitality team excellence
Research confirms that employees want to perform on a fair and just playing field. And they want to be guided by managers they respect.
Objective, confidential survey feedback is a great way to understand the depth and breadth of employee aspirations.
Gap analysis of The Dorchester's survey results in 2007 revealed a data spread of just 29.5 points – an improvement of 27.5% over the hotel's 2004 scores. The Dorchester now tops the leading five hotels in occupancy and has already achieved the much sought-after position of number one in RevPAR (revenue per available room) twice in 2008.
"Employees want to perform on a fair and just playing field."
Four years ago the hotel sat in the lower ranks of each of these market indicators. This year the hotel has been awarded Caterer & Hotelkeeper's best place to work in hospitality title and a one-star accreditation in Best Companies 2008.
Cowdray was recently promoted to chief executive officer of The Dorchester Collection and is in charge of creating and assuring the company's bright future.
It takes commitment, energy, and a willingness to learn and adapt to new thinking to achieve a peak performance mindset. It can be done.
But like Olympic athletics, it requires a confident first step and a firm commitment. The results are worth it.