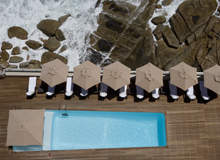 On 11 June 2010 South Africa will be presented on a platter to the world. In the nation's biggest showcase yet, the soccer World Cup, organised by the Fédération Internationale de Football Association (FIFA), will put the nation's newest infrastructure, from roads and rail transport to stadiums and hotels, to the test.
It will be a challenge, but hosting an international football tournament for a month – one of the biggest sporting events in the world – was one South Africa wanted.
At one point, world pundits questioned if the competition would be able to go ahead. The power strikes that plagued the nation's mining industry – the nation's largest employer – also put the World Cup in doubt. Until recently, South Africans lived with power rationing, but the government has since said power will flow at desired levels when an expected 450,000 fans and tourists hit the republic next year.
There have also been concerns about public transport, but not only have the country's airports undergone significant upgrades for the World Cup, its road and rail transport systems, feared inadequate for such large crowds, have also seen major improvements.
FIFA's hotel challenge
Once the games begin, however, it is South Africa's hotels that are likely to come under intense scrutiny.
How well do you
really

know your competitors?

Access the most comprehensive Company Profiles on the market, powered by GlobalData. Save hours of research. Gain competitive edge.
Company Profile – free sample
Thank you!
Your download email will arrive shortly
Not ready to buy yet? Download a free sample
We are confident about the unique quality of our Company Profiles. However, we want you to make the most beneficial decision for your business, so we offer a free sample that you can download by submitting the below form
By GlobalData
"The hotel industry, used to handling a local business market, has never had to deal with an event the size of the World Cup before."
The hotel industry, used to handling a local business market, has never had to deal with an event the size of the World Cup before. Hotel intake over a short period of time will be huge and likely to fluctuate, and if the most recent past soccer tournaments in Germany (the 2006 World Cup), and Austria and Switzerland (the UEFA Euro competition in 2008) are anything to go by, visiting trends for other events will only help a little when it comes to working out how visitors will want to manage their stay.
Some guests may move about between the cities where games are played, others will stay longer than the duration of the event to make the most of a long-haul trip; visitors for Germany's World Cup preferred short stays and travelled short distances from other European nations.
What is known is that on 10 June this year FIFA reported 630,031 tickets had already been sold to visitors from 188 nations. South Africans made up the majority (purchasing 301,601 tickets), while visitors from the US purchased 73,441 tickets, the UK 42,907, Germany 30,880 and Australia 15,038. Italians also bought a large number of tickets as had residents from Brazil and France – and this was only figures from the second ticketing phase. More tickets are expected to be sold as more national teams qualify for the event in months to come.
The hotel game plan
SA's Newmark Hotels operations director Andy Nold says preparations for the World Cup have been six years in the making. Until recently, all hoteliers could do was take a punt on what trade would be like. And while his boutique chain has found the challenges of catering to a football crowd somewhat "immense" as a result, with careful planning he believes Newmark has put itself in a good position to cope comfortably with any challenges.
"The general feeling from the industry about the World Cup is one of a lot of excitement," Nold says. "You drive around Cape Town and you can see the new infrastructure unfolding before your eyes. It really is going to be brilliant, but we have never had to deal with anything on this magnitude before. We have had to work hard to get it right, and to make sure our hotels are as full as possible for as long as possible to make all of this hard work pay off."
FIFA has been working alongside hotels to ensure the nation can cater for the expected custom, but help from the governing body is not the only assistance hoteliers have received.
Bryan Mulliner, group revenue manager for Protea Hotels Group in South Africa, says his chain started talking with hotels in previous World Cup host locations as soon as the country was awarded the World Cup. They were interested in learning about booking patterns and fluctuations and how the hotels over there managed increased demand. "We really wanted to identify ways we could adequately prepare for this event, from the infrastructure to the food services and the management of the hotel," says Mulliner.
Revenue management vendor IDeaS is also working with a number of hotel chains, including Protea and Newmark, to offer future forecasting software and analysis.
"There is no particular strategy that works for all – you really just need to be as balanced as you can and know your operations well."
IDeaS Advantage senior consultant Paul Van Meerendonk authored a special report for the company on the FIFA World Cup. He says hotels overseas have offered some valuable insight into areas of hotel management that can be affected by World Cup traffic, but this is not enough for hotel vendors wanting to get their management right during such a large, localised event.
"We have studied hotels that have catered to Olympic crowds and others that have hosted past World Cup visitors – they are all different," says Van Meerendonk. "For the World Cup in Germany there were a lot of people travelling from countries close by, meaning trips were shorter than is likely to be the case in South Africa. I think South Africa really is going to have its own unique situation to contend with being so far from the rest of the world."
Winning the World Cup
Success in such a whirlwind of football excitement, according to Van Meerendonk, all comes down to a careful, well executed balancing act, excellent communication, ample provisioning and the ability at all times to be flexible. "There is no particular strategy that works for all – you really just need to be as balanced as you can and know your operations well," he says.
"Try to mix up all the different business types you have – those requiring lunch, breakfast, night stays, short stays and long stays to maximise revenue – and ensure you can always cater to demand at your front desk, in the kitchen and with room service, and so on. For example, make sure you don't have most of your hotel guests checking out on the same day."
Protea followed IDeaS' advice early on in its World Cup planning. "We started to engage our hotels early to get an idea of what additional stresses they may go through, using software that analyses likely situations. We wanted to know the mind patterns, profiles, meal requirements, activities and more of our corporate affiliates, sponsors or FIFA guests as early as we could," says Mulliner. This allowed Protea to identify which of its 90 South African hotels will cater to particular markets, from team hotels to corporate, despite its spectator demand still being relatively unknown.
Newmark's Nold has also put balance at the forefront of his planning: "We don't want to be running 120% up one day and then be down the next," he says. "I have not done a full model yet but we really do need to think hard about ways to keep the momentum going for as long as possible for everyone."
This is especially true for bookings. With the global financial crisis still taking casualties, Van Meerendonk says hotels should carefully consider booking policies and keep a close eye on tournament progress to see which guests are most likely to make good on their promise to fill a room.
"A good hotel experience will lead to excellent word-of-mouth recommend-ations."
"Be very strict about your cancellation policies and make sure all of your conditions are very clear and well thought out," says Van Meerendonk. "Contracts don't tend to be standard in hotels but for an event like the World Cup they should be considered." Hoteliers have also been told to build close relationships with their booking channel partners. "Keep in constant contact with them as they hold a wealth of information that could help with forward planning," he says.
Lure and keep
Package deals have helped Protea and other companies lure and keep customers, according to Mulliner. "All of our corporate sponsor guests were brought in with bulk buys," he says. "We were able to use software such as IDeaS RM, for example, to give us an understanding of what our booking patterns would be like [to determine how to structure packages]. It is not until closer to the games, though, that we will really understand better what our booking patterns are likely to be, but we are still preparing ways now to put rooms out to the market as fast as possible if anyone cancels closer to the time."
As for being flexible, as broad a mix of clientele as possible is required for chains still unsure of what demands will be like in 2010. "Data observed (by IDeaS) has shown that group contribution should be kept between 45% and 55% if hoteliers want a solid base of guaranteed bookings while being able to pick up a good number of transient ones at a higher cost," Van Meerendonk says. This will also help maximise revenue from special hotel events, as well as food and beverage profit, and keep a balance in demand through all areas of the hotel.
"We are organising special World Cup party nights on evenings we know people won't be so busy attending games and stocking up on extra containers full of food during the event to ensure we maximise our revenue stream from this side of our business," reveals Newmark's Nold. "We even have exclusive bar packaging for corporate clients."
Hopefully, with so much careful planning in place, South Africa's hotels will start to feel the real benefits of the World Cup long after the stadium doors are shut and transport systems have returned to normal. A good hotel experience will lead to excellent word-of-mouth recommendations and can open the door for more large-scale events, which could create a whole new market for South African tourism and, quite possibly, provide more big tournament wins in years to come.