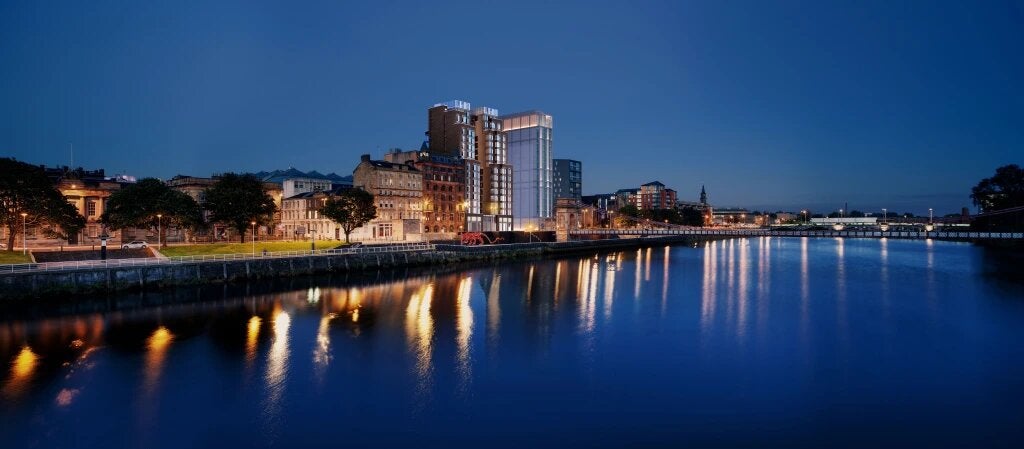 Hilton has revealed plans to debut its urban, lifestyle brand, Motto by Hilton, in the UK with the opening of a new hotel in Glasgow.
Located on the banks of the River Clyde, the new hotel will offer 186 rooms with multiple Confirmed Connecting Rooms expected to feature to provide multi-use space ideal for larger groups, and communal spaces.
Expected to open in autumn 2024, the lifestyle hotel will also feature activated social spaces, and locally inspired design and food & drinks.
The hotel's interiors will reflect Glaswegian architecture styles, including Art Noveau references and Mackintosh-inspired designs.
The opening of Motto by Hilton Glasgow comes after Hilton debuted the brand in Europe with a hotel opening in Rotterdam, Netherlands last week.
The new hotel will join the seven existing Hilton properties in the Glasgow area and more than 160 Hilton properties across the UK.
Hilton EMEA development senior vice-president Patrick Fitzgibbon said: "We are excited about the arrival of the Motto by Hilton brand in the UK. The hotel will cater to a range of guests, whether travelling for work or play, solo or in a group, with innovative new features such as multi-use group spaces and multiple connecting rooms.
"It will give guests the freedom and flexibility to customise their stay in this celebrated Scottish city – and will pave the way for future properties in the UK as we grow the Motto by Hilton brand into vibrant city locations."
Motto by Hilton Glasgow is part of a franchise agreement with Cycas Hospitality, and it will be owned by Silk Property Group.
Recently, Hilton opened Doubletree by Hilton branded hotel in Foz do Iguaçu, a city in the state of Paraná.