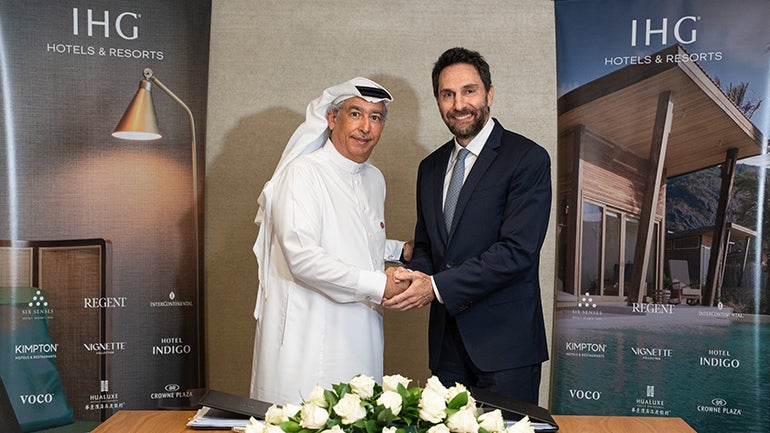 IHG Hotels & Resorts has signed a management agreement for the first Vignette Collection property in Al Khobar, Saudi Arabia.
As part of the agreement, IHG will rebrand Carlton Al Moaibed Hotel to Vignette Collection hotel.
The property, which will be a part of a luxury community village, features 150 rooms, five food and beverage venues, experimental spa and health club.
Other guest amenities include five multi-purpose meeting rooms and convention spaces, as well as other meetings, incentives, conferences and exhibitions (MICE) facilities for up to 1,500 guests.
King Fahd International Airport is 30 minutes away from Vignette Collections Hotel in Khobar and other major attractions in Dammam City are located just a few kilometres from the hotel.
IHG India, Middle East & Africa managing director Haitham Mattar said: "A great Vignette Collection hotel is on its way to Saudi Arabia to cater to a growing number of guests in the Kingdom who seek luxury experiences that differ from the conventional hotel offering.
"This signing is also in line with Saudi Arabia's Vision 2030 and the Government's efforts to bring new, refreshed brands and experiences to the Kingdom.
"As a long -established hospitality player in the country, we are well positioned to add over 10,000 additional rooms to our existing portfolio in the next two-three years, largely focussed on the luxury and lifestyle segment.
"Our Vignette Collection brand debut is a testament to our commitment and marks a milestone in our journey in the country."
The existing Carlton Al Moaibed Hotel will undergo refurbishment and reopen as Vignette Collections Hotel in Khobar by 2024.
The property will complement Vignette's existing portfolios in countries including Portugal, Austria and Australia.
In July this year, IHG Hotels & Resorts, in association with property development firm Siam Sindhorn, opened its first Vignette Collection hotel in Thailand.