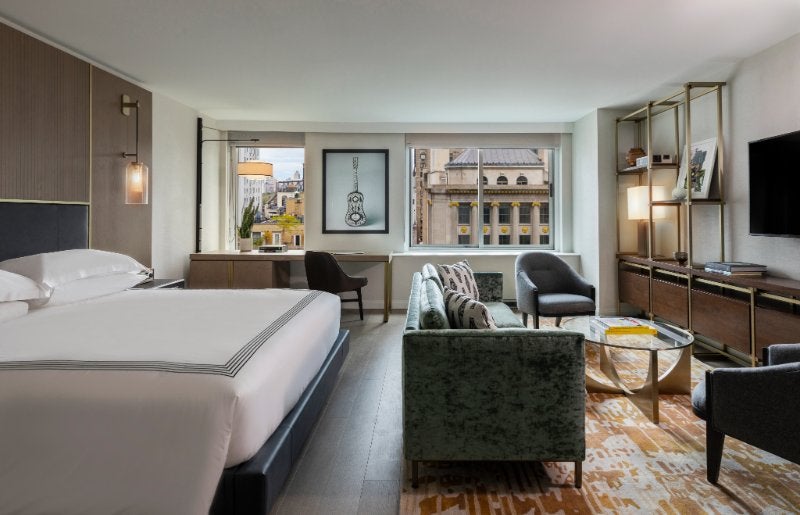 Thompson Central Park New York, situated in former space of the Parker New York, has opened its doors for guests.
The opening of the location further bolsters Thompson Hotels footprint in New York.
Located steps from the southern edge of Central Park, Thompson Central Park New York features 587 guestrooms and suites including 174 luxurious accommodations named Upper Stories.
The hotel also features a redesigned lobby along with refurbished interiors. The culinary hotspot, Burger Joint, and a new cocktail bar, Standing Room Only, also opened at the location.
Additional facilities including dining destinations, event space and the Upper Stories are expected to open by spring next year.
Thompson Central Park New York general manager Matt Slippoy said: "We're honoured to introduce the world to Thompson Central Park New York and welcome travellers to a stunning new hotel in the heart of New York City.
"Together with our partners across design, culinary, retail and more, we're thrilled to provide New Yorkers and travellers with an unparalleled hospitality experience steps from Central Park and iconic cultural institutions, performing arts theatres, Broadway and more of what makes New York City a world-class destination."
Thompson Hotels is a lifestyle hospitality brand of Hyatt Hotels . It has two additional properties in Lower Manhattan, The Beekman and Gild Hall.
In August this year, Thompson Hotels has opened a new luxury lifestyle location near Hollywood on the US west coast. The 11-storey property features 190 guestrooms.