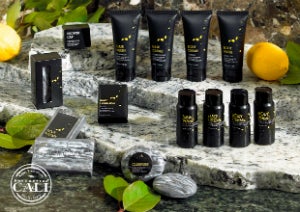 Nourishing and fragrant, Baronessa Cali skin and body cosmetics merge ancient homemade recipes with high-quality cosmetic grade beauty formulas to create a luxurious bathing experience.
Since its creation, the Cali Beauty Farm's philosophy has been to treat the outside and the inside of our bodies with the same care, using the finest ingredients.
E.Vulcano inspired by Mt Etna – Featuring Sicilian lemons and volcanic minerals
Looking out my window I could see the powerful and awesome site of Mt Etna. This beautiful wonder if filled with precious minerals that are outstanding for moisturising, exfoliating, soothing, toning and healing your skin. In the air you can smell the wonderful sweet scent of the Mt Etna Brooms (Genista Aetnensis) and of Sicilian lemons. We have added all of these powerful ingredients, with Italian olive oil, to create this unique collection.
Baronessa Cali E.Vulcano was inspired by the powerful Mt Etna and the sweet scent of brooms and Sicilian lemons.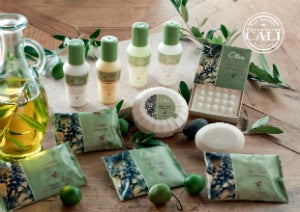 E.Vulcano hotel amenities includes shampoo, conditioner, body wash, and body lotion in 30ml bottle and 40ml tubes. Soaps are in 25g, 40g and 50g.
Oliva Extracts of Italian Olive Oil
Welcome your guests to the world of Oliva, where a new level of luxury and personal care awaits them. Oliva combines traditional Italian appeal with a fresh and contemporary design. The green and red tones reflect the stages of a ripening olive.
The sweet and musky, European inspired fragrance is light enough to leave your guests feeling refreshed, but not overwhelmed. Each essential ingredient will leave skin and hair soothed, softened, stimulated, and firmed without an unpleasant texture.
Baronessa Cali Oliva was inspired by the plentiful olives found on the Cali Beauty Farm. The olive oil produced there has superior health benefits.
Oliva hotel amenities includes shampoo, conditioner, body wash, and body lotion in 50ml bottle, and 35g, 40g, 60g, 100g soap.
Tarocco Sicilian Blood Orange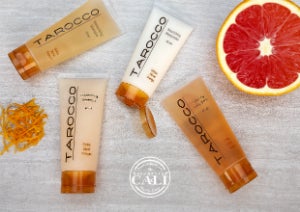 As the original, Tarocco's design and quality formulas have often been copied but never replicated. This uplifting line features bright orange tones combined with a sleek and minimal design. Easy open bottles and tubes contain bio-additives to reduce environmental impact.
With a signature sweet orange fragrance, Tarocco will revitalise and give your guests a much needed boost. The energising orange extract formula helps to liven up hair and freshen skin with its antioxidants and vitamins.
Baronessa Cali Tarocco was inspired by the unique Sicilian blood oranges found on the Cali Beauty Farm.
Tarocco hotel amenities include shampoo, conditioner, body wash, and body lotion in 30ml bottle and 45ml tubes. Soaps come in 27g, 35g and 50g.