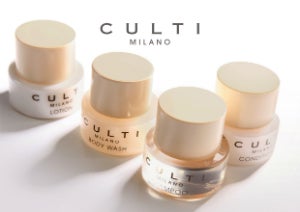 Founded in 1990, CULTI has developed an uncommon and elegant lifestyle project, for customers who appreciate unique, excellent, yet simple objects.
Today, the CULTI brand evokes a world of exquisite collections offering a multisensorial experience, through fine fragrances and cosmetics. Home accessories, textiles and furnishings designed for every area of the home and spa. The cult of beauty and commitment to our customer's needs are the pillars which the CULTI design and manufacturing philosophy are built on.
CULTI is renowned for designing and developing a series of upscale spas, resorts, restaurants and concept stores. These are all places of good taste for the customer's physical and mental wellness. Each of these venues is furnished in the perfect CULTI style and is characterised by the utmost care that is reserved to the guest.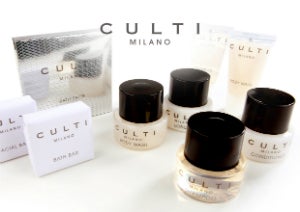 Among its 30 exclusive fragrances, CULTI has created a selection of four scents that are specifically tailored for discerning travelers. They express the concepts of relaxation, rebalance, and revitalisation with notes and ingredients of the highest alfactory quality.
Aqqua
Fresh, modern, slightly masculine, a fragrance for dynamic and sportive people. Coriander and bergamot; mimosa and aromatic sage; citron and sandalwood.
Mareminerale
This unisex fragrance was inspired by the desire to bottle the positive energy of the sea, its fresh foams and the smell of driftwood lying on the beach at dawn. The perfect fragrance for anyone desiring utmost wellbeing when travelling. Lymph, Sea accord and Mineral musk
Tessuto
A first class fragrance created with the dream of designing a scent for a Noble. Cassis leaves and Cotton flowers; Olive, Jasmine; Kasmir wood white musk.
The
Pure pleasure for body and mind; fond memories of far-off exotic lands intermingle with vibrant scents of Mediterranean citrus. For him and for her, the energising and yet soothing power of the green tea scent on skin. The fragrance to rebalance oneself and to always feel at ease, in any situation. Bergamot, Wood of Cayac, Sencha Tea
Product Range:
Shampoo 1.5oz, Bottle
Conditioner 1.5oz, Bottle
Lotion 1.5oz, Bottle
Body Wash 1.5oz, Bottle
Shampoo 1oz, Tube
Conditioner 1oz, Tube
Lotion 1oz, Tube
Body Wash 1oz, Tube
Bath Bar 1.33oz, Paper Wrap
Facial Bar 1.33oz, Cello Wrap
Bath Salts 40g, Carton
In-Room Spray 0.90oz or 1.90oz, Bottle
Shower Cap, Carton
Vanity Kit, Carton
Nourishing and fragrant, Baronessa Cali skin and body cosmetics merge ancient homemade recipes with high-quality...