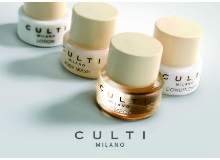 Founded in 1990, Culti has developed an elegant lifestyle project for customers who appreciate unique products.
The Culti brand consists of exquisite collections that offer a multi-sensorial experience through fine fragrances and cosmetics.
Home accessories, textiles and furnishings are available for the home and spa. Culti's design and manufacturing philosophy are built on beauty and commitment.
The company is renowned for designing and developing upscale spas, resorts, restaurants and concept stores.
Each of these venues is furnished and characterised by the utmost care for guests. Culti offers hotel amenities include shampoo, conditioner, body wash and lotion in sizes of 30ml and 45ml.
The company also provides bath, facial and glycerin bars (40g).