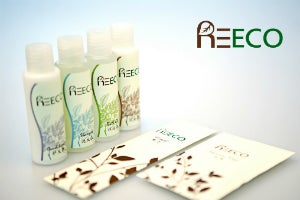 Ming Fai has put great effort into the development of our in-house brand REECO. This collection is designed for green travellers, green hotels, and individuals who care about protecting our environment.
REECO is certified with ECO-CERT from an organic certification organisation to ensure that ingredients all have a natural origin, guaranteeing all the products are of great quality and respect the environment.
REECO is also certified with ECO-LABEL from the European Union, the labelling system that helps to identify products that are less harmful to the environment.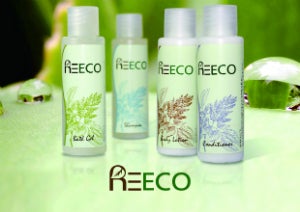 Approximately 99.75% of REECO's ingredients are from organically, natural harvested sources, and 5% are from organic resources. No mineral oil, silicones or polymer additives are used in the formulation and the product is Paraben Free.
Accessory items include toothbrushes, hairbrushes, and razors. These products are made from Plastarch Material (PSM), which is different from traditional plastic raw materials. All packaging is made from stone paper, a special inorganic mineral that can replace the traditional pulpwood material to produce
Nourishing and fragrant, Baronessa Cali skin and body cosmetics merge ancient homemade recipes with high-quality...