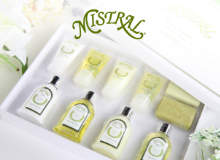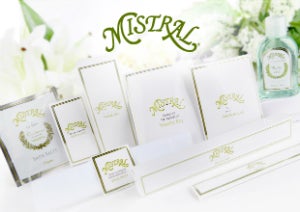 During winter and spring the Mistral wind sweeps down from the Alps across the storied landscape of Provence, leaving behind luminous, deep blue skies.
Our collection of exquisitely scented bath, body and home products takes its name from this legendary wind, whose fragrant course is shaped by the mountains, rivers and plants of the region. The Mistral wind moves over the entire Rhone valley, creating seasonal changes and spectacular climatic swings.
It has a profound effect on the terrain by rejuvenating the soil, creating lush planting conditions and giving birth to fields of herbs and flowers. By evoking the powerful spirit of the Mistral wind, we invite you to experience the scents and colors of Provence as part of your daily bath and beauty moments.
About Our Products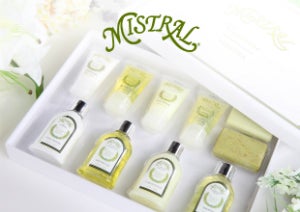 The true test of any personal care product is its power to transform you. At Mistral, we take our name from a wind which brings change and transformation throughout the region of Provence. Every product we create honors the very spirit of the legendary Mistral wind and informs our core philosophy of change.
When you apply one of our nourishing body care products, bathe with our exquisite soaps, or inhale one of our signature fragrances, your skin will soften and beautify, your mood will brighten, and your spirit will be soothed. It is this journey, both sensory and experiential, that guides our research and product development team in their quest.
Mistral Verveine Amenities Collection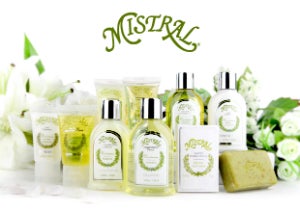 Scented with lush Verbena oils to rejuvenate the senses and soothe even the weariest of travelers, the new Mistral Verveine collection draws on organic shea butter to soften and heal, as well as natural olive oil to hydrate and condition. Offered in jewel-like packaging and featuring exceedingly rich formulations, this collection will bring the Mistral Wind and its timeless journey across Provence and into your guests' bath and shower.
The Verveine Amenity Collection includes shampoo, conditioner, shower gel, body lotion (available in 2.0oz bottles or 1.0oz tubes), plus a 1.75oz body soap, and 1.25oz gentle face soap. Turn-down items including verbena bath salts, shea butter, and hand creme are also available.