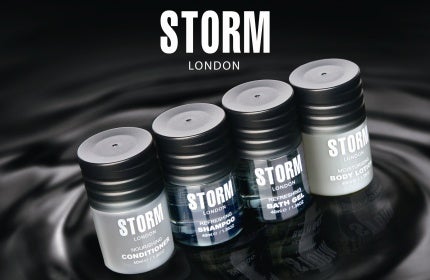 STORM is the only recognised British fashion watch brand on the market today.
Launched in 1989, STORM products include watches, jewelry, bags, eyewear, sleepwear and fragrances, which are sold in 45 countries internationally.
STORM Hotel Collection
Storm Hotel Collection is inspired by the unique designs that have appealed to enthusiasts and others who have an eye for detail and style.
The fresh lemon verbena is the key note for STORM hotel amenity, including natural beneficial essences such as ginseng root extract, hydrolyzed pearl protein, seaweed extract, lemon and orange extract, hydrolyzed wheat protein, and hydrolyzed wheat starch, which effectively conditions the skin, as well as enhancing blood circulation.
Experience the contemporary styling incorporating sophistication and originality of STORM hotel amenity in your journey.
STORM Hotel Collection includes:
40ml and 45ml shampoo / conditioner / body wash / body lotion
25g and 45g soap selection
Nourishing and fragrant, Baronessa Cali skin and body cosmetics merge ancient homemade recipes with high-quality...