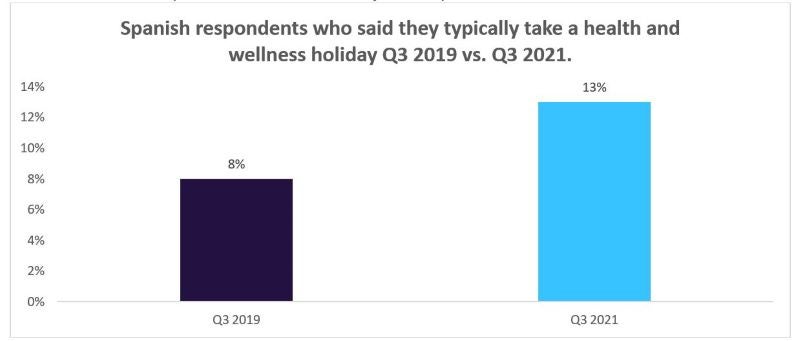 According to a GlobalData report, the demand for health and wellness holidays is growing among Spanish travellers, as the pandemic has led to a greater acknowledgement of mental health.
In a consumer survey conducted by GlobalData in Q3 2021, Spanish responses were compared to replies in an identical questionnaire given before the pandemic in Q3 2019. The latest survey revealed that the demand for health and wellness holidays has increased by 5%, with Spanish respondents saying they typically take this kind of vacation. This increase is significant for the health and wellness market, and showcases a shift in Spanish consumer tastes in just two years.
The pandemic's effect on mental health is a significant factor
The pandemic has undoubtedly had a hand in creating this demand for wellness holidays. Many Spanish residents were locked away at home unable to travel, or even commute to work, for a period of time. Like many other countries across the world, this has had a significant impact on mental wellness, with many yearning to travel, socialise, and experience the things they enjoy most. The increased time spent at home, away from friends, family, and work colleagues has forced many Spanish residents to re-evaluate their mental well-being. In a GlobalData Q2 2021 Global Consumer survey, 29% of Spanish respondents said they were 'extremely concerned' about their mental health because of the pandemic while a further 30% said they were 'quite concerned.'
The responses regarding mental health from Spanish residents can be linked to the growth in sentiment towards health and wellness holidays within this market in general. Typically, these types of holidays offer tourists a range of activities intended to positively impact the body and mind. These range from spa and relaxation holidays, to fitness, meditation, and yoga. These vacations enable tourists to escape their homes and focus on their own well-being. While the pandemic has had challenging consequences for the travel industry, there is an opportunity for tourism companies to attack this market. GlobalData research shows that the Spanish market is more than ready to buy into these kinds of tourism products.
A significant opportunity for tourism companies
The pandemic has been challenging for a nation in which travel is ingrained in the culture. In 2019, there were 161 million overnight domestic trips and 23 million overnight outbound trips from Spanish travellers, making it one of the most active source markets in Europe. Sadly, in 2020, these types of trips fell by 44.5% and 67.4%, respectively. Among a population of just 48.5 million, these figures show that travel is a substantial part of Spanish culture. The inability to engage with tourism during the pandemic has been draining for many. With 2022 set to be a more optimistic year for the travel industry, there is an opportunity for firms to re-engage with the Spanish market with holidays that boost physical and mental well-being benefits. As a result, we are likely to travel companies focus their Spanish marketing efforts on spa facilities, fitness suites, and relaxation.